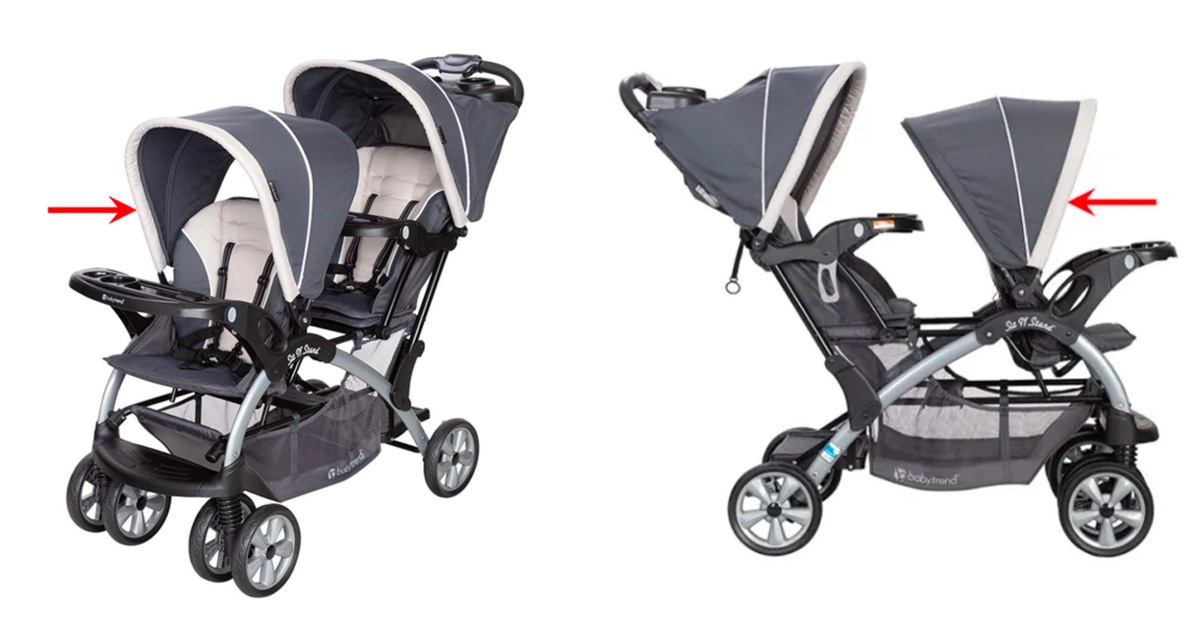 A baby was killed and another was injured after being trapped in a popular Baby Trend stroller which is sold at retailers like Amazon, walmart and Buybuy Baby, the The Consumer Product Safety Commission announced on Thursday.
The safety group and society have issued a warning that children could be at risk of getting their heads or necks caught in Baby Trend Sit N' Stand Double and Ultra strollers if they are not properly attached or if a child climbs on the outside of the stroller.
A 14-month-old child who was not seated in the stroller was fatally asphyxiated after his neck got caught in the gap between the front of the canopy tube and the armrest of a Baby Trend Sit double stroller N' Stand, the CPSC said.
The child's father was nearby but could not see the child, the group said.
The other child, a 17 month old, was partially restrained in the stroller and became trapped in the gap between the back of the canopy tube and the front seat back, resulting in neck bruising, said the CPSC.
The strollers have been sold nationwide since 2009. It is not known when the incidents occurred or if there were other cases.
CPSC and Baby Trend warn consumers to remove and store the canopy separately when not in use and to ensure children are always securely strapped in the stroller with its built-in five-point harness. They also warned that children should not play on the stroller by climbing on it.
Affected strollers have model numbers beginning with SS76 or SS66, which can be found on a sticker on the left rear inside of the frame.
Baby Trend is a global manufacturer of children's products that has been in business for more than 30 years, according to company press releases. In 2016, it was acquired by Alpha Group Co. Ltd. for $94 million.
Alpha Group is a China-based animation and pan-entertainment platform that started as a toy company.
Baby Trend did not respond to a request for additional information.