Nurses strikes. Teacher strikes. Strikes by train drivers, civil servants and university professors. This may not quite be a replay of the winter of discontent 44 years ago but it's starting to look a bit like it.
While it is the clash between government and public sector workers that has attracted the most media attention, there has also been widespread action in the private sector. Just this week, the Unite union announced that 180 members of the Drax Power Plant Would Strike after rejecting an 8% wage offer, that tank drivers employed by JW Suckling were vote for industrial actionand that grounds maintenance staff on an outsourced contract from Welwyn and Hatfield council had ended a long dispute after being awarded a 13% salary increase.
Rishi Sunak may be engaging in a war of attrition with public sector workers, but private sector employers are willing to be much more flexible. The latest official figures show an average annual growth in the private sector of 7.2%, and while this figure is still below inflation, it is more than double the wage growth of 3.3% in the public sector.
The reason private sector employers are willing to move in is clear: businesses are facing a labor shortage. Even at a time when the economy is barely growing, job vacancies remain near record highs. Officers employed by the Bank of England to take the temperature of trading conditions across the UK reported last week that companies were reluctant to cut staff due to "fears they would struggle to rehire if needed". Only a small number of companies were planning layoffs.
There is no single cause for the staffing shortage. The aging of the population is a factor. The same goes for the decision of many 50 to 64 year olds who left the workforce during the pandemic not to return. Child care costs are a big issue here. Almost two-thirds of grandparents regularly care for their grandchildren – a sharp increase in recent decades.
Brexit is also a factor. This is partly because our departure from the EU is causing shortages in specific sectors such as construction and hospitality. This is partly because employers need to rethink how they will react to a change in the way the UK labor market works.
For decades, the balance of power in the workplace has tilted heavily in favor of employers. Union membership has halved since its peak in the late 1970s and has been concentrated in the public sector. Industrial action has been made more difficult by government legislation. And, until recently, EU membership meant that companies had access to a large pool of workers whenever they needed them. For employers, the free movement of labor is a great idea, because workers in the EU are highly motivated, well-trained and cheap. They provided an army of reserve labor which was useful in disciplining domestic labor.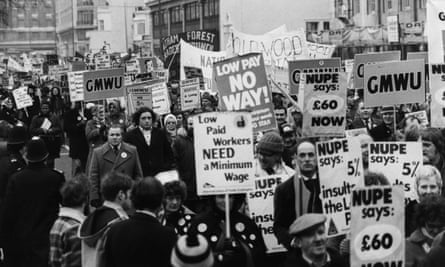 Ultimately, wage negotiations come down to a matter of supply and demand. If the demand for workers is growing – as was the case when the economy emerged from pandemic-induced lockdowns – and the supply of workers is limited, then unions have more bargaining power. If the demand for labor increases and employers can attract new recruits from abroad, then the bargaining power of unions is more limited.
The row between the government and CBI on migrant workers illustrates how things have changed. The employers' lobby group has urged Sunak to grant more visas so businesses can deal with labor shortages. The Prime Minister has said companies should train unemployed British workers to fill the gaps. Labor also doesn't appear to be more accommodating to employer demands. One of the main reasons Keir Starmer opposes the UK joining the single market is that it would mean accepting the free movement of EU workers.
It would be wrong to exaggerate the impact of all this. Brexit is only one reason – not the most important – for the current labor shortage. Moreover, the CBI is right when it says that training UK workers is not a real answer to vacancies that need to be filled now. There is a case, even with tighter migration controls, for more time-limited visas for workers with specific skills.
That said, the end of free movement has implications for both wage negotiators and the wider economy. Wage rewards are not keeping pace with price increases, even at a time when unemployment is below 4% and vacancies are plentiful, but settlements would be even weaker if employers had fewer problems finding workers.
Ultimately, employers will react in three ways. They will accept that the workers have more weight and will pay them more. They will rise to the challenge of equipping benefit recipients who want to work with the skills they need to get a job. Finally, they will invest in new machinery as the cost of labor rises relative to the cost of capital.
The last point is important. While restrictions on the free movement of EU labor undoubtedly have short-term costs, there is also an opportunity to break away from an economic model that relied too heavily on access to a large pool of cheap labour. Previously, companies had no real incentive to invest more in new kit, which is why the UK's recent productivity record has been so poor. Now they do.