THE toy story the films had the rare distinction of being one of the few franchises to improve with each installment, at least as far as the original trilogy was concerned. In 2010, Toy Story 3 ended with Andy heading to college and handing over his toys – including his best friends Woody and Buzz – to a new kid, Bonnie, after one last tearful play session. It was a perfect way for Andy, and for us, to say goodbye to these characters we've loved for so long.
Then, in 2019, Disney came out with toy story 4. The movie itself was fine (we gave it a B) and grossed over $1 billion at the box office. A common criticism kept coming up though: Bringing back Woody, Buzz, and the rest of the gang somewhat undermined the sweet send-off they received in the previous film. They got a new ending this time around, with Woody leaving with Bo Peep and a bunch of other childless toys while Buzz and the others went home with Bonnie.
Now, despite giving Woody, Buzz and their toy friends another fairly definitive conclusion – not to mention last year's disappointing spin-off Light year– we are going back to do it all over again. What's left to say? We're not even sure Pixar knows about it. It could be a case of Disney putting down a pin and then drawing a map around it. Is the creative team that has yet to be announced (toy story 4 had no less than nine names with "original story by" credits topping either of these emotional resolutions? While we don't know anything about the story, cast, or characters yet, we remain skeptical. And we are not the only ones. Here are some of the reactions we've seen on social media since the news broke earlier this afternoon.
G/O Media may receive a commission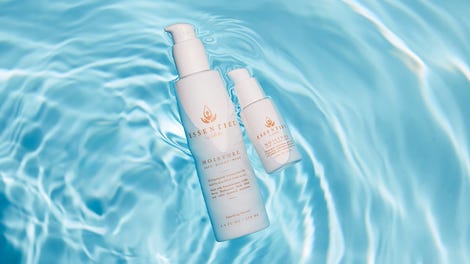 20% off
Essentiel by Adele
Skincare from head-to-toe (literally)
Essentiel by Adele is an all-purpose moisturizer, suitable for body, face, and even the under eye area.
After the high bar set by the original trilogy, Toy Story has been a case of diminishing returns. In between Toy Story 3 and 4 Disney kept the franchise alive through a series of shorts and specials, all of which were entertaining in their own way but couldn't match the quality of the storytelling in the features. Then we got the major downshift that was Light year last year, a spin-off that underperformed both commercially and critically. It doesn't really fill us with confidence. Nor is the way this project was announced, dropped amid an earnings call amid news of mass layoffs and a handful of other sequels. projects, like Frozen 3.
Can toy story bounce back if the fifth film thwarts the odds and proves to be a worthy successor? It's not out of the question. Audiences will have to decide if they're ready to say hello and goodbye to these characters once again. The chances are not there toy storyis favorable, but we'll just have to wait (indefinitely) to see.