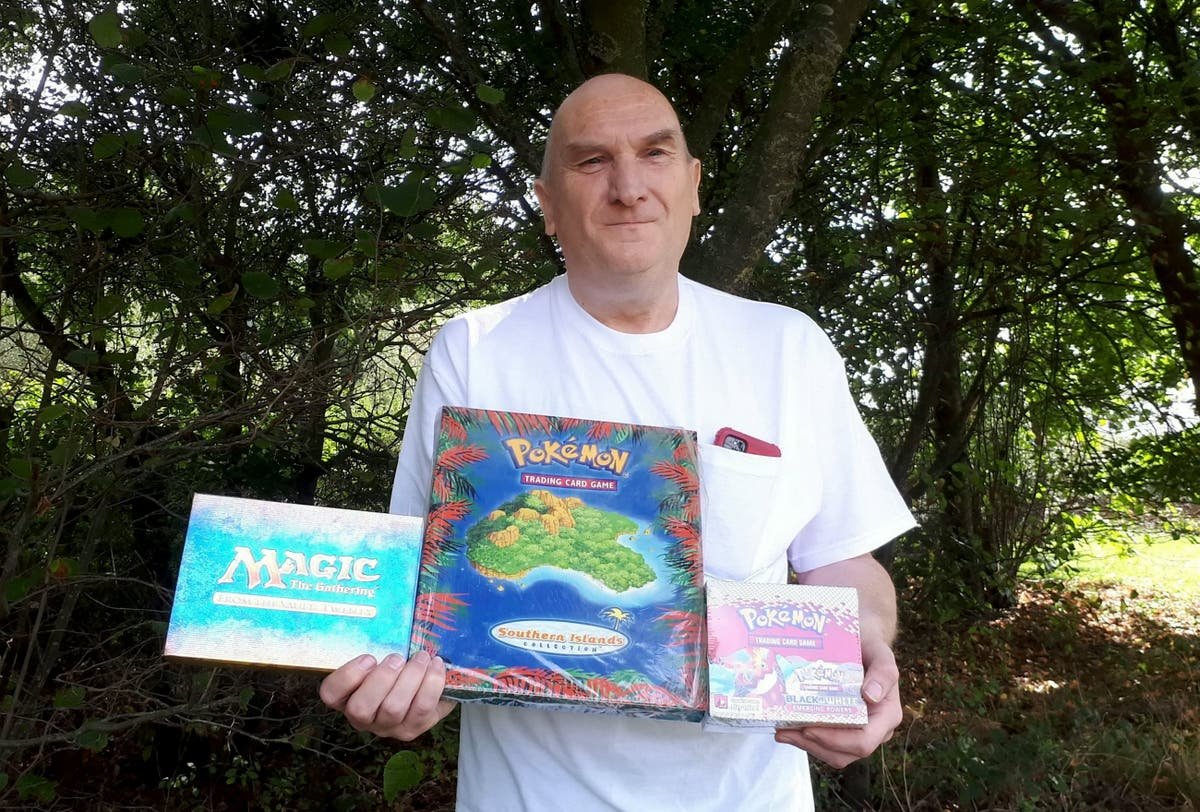 A wise dad who has spent 16 years collecting rare trade items and Pokemon cards for his children is selling the lot for a whopping £250,000.
Gordon White, 58, amassed thousands of cards, including dozens of complete Pokémon sets, when he started collecting them in the 1990s.
The delivery driver began his obsession after his children asked to join a Pokemon league and he's been collecting them ever since.
He has already cashed in by selling half his collection, which fetched £200,000 when it went under the hammer in November last year.
Now Gordon is set to raise another £60,000 by whipping up the rest of his 'hoardhouse' of Magic: The Gathering cards.
Magic: The Gathering – known as "Magic" or MTG – is considered the very first pre-Pokémon collectible card game and was a precursor to the genre.
It was released in 1993 by Wizards of the Coast and has since been played by at least 35 million people.
The collection will be sold by Richard Winterton Auctioneers in Lichfield, Staffs., in an online auction starting today.
Gordon said he decided to part with his massive trading card hoard after realizing it was finally time to stop playing the game after 16 years.
Gordon, from Livingston, Scotland, said: "For me the fun is finishing, not collecting.
"And as far as I'm concerned, I've finished it, so it's time to pass it all on."
Father-of-two Gordon began hoarding Magic: The Gathering cards as well as those from the popular Pokemon Nintendo franchise in 1998.
They featured Sealed Reminder Boxes, First Editions, Promo Cards, Rare Errors as well as Rare Cards given out to staff at Pokemon Tournaments.
Over the years, he's led a Pokémon league and acted as a judge at UK events while "mingling with the highest echelons of the Pokémon world".
Auctioneer Richard Winterton said Magic: The Gathering cards would also be highly sought after by collectors as it was a "landmark" in collectible card games.
He added, "Magic is the first collectible card of its kind where you collected cards and then sent them into battle.
"It's an absolute landmark in the early days of trading cards.
"Wizards Of The Coast has become a big name in Magic: The Gathering.
"It was after Magic that Wizards Of The Coast got the license to make Pokémon for the west.
"This is the first time we've had full sets of Magic: The Gathering.
"A collection of this magnitude is not often put up for auction.
"Gordon originally chose to sell his collection through us because he saw how we had marketed other important Pokémon collections and the team was thorough in their attention to detail in cataloging these amazing cards."
Auction highlights are said to include a Magic: The Gathering Seventh Edition sheet set in mint condition, estimated at £10,000.
Other Magic Leaf variant sets include the Urza's Legacy Complete Set with the Workhorse to fetch between £3,000 and £4,000.
The auction also offers collectible Pokemon to sell for thousands of pounds.
They include the complete Pop Series 5 with all 17 cards, including the "extremely rare" Espeon 16/17 and Umbreon 17/17, and a complete EX Keepers set with all gold star cards.
Other cards in the sale include VS System Marvel and DC, Lord Of The Rings and Harry Potter from the early 2000s.