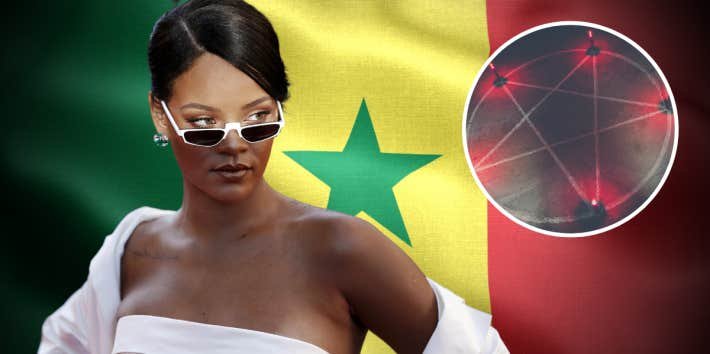 With Superbowl LVII fast approaching on February 12, 2023, there has been a lot of buzz surrounding pop star, Rihanna, who will play at halftime this year to show.
With the singer much discussed in the media, old news and conspiracy theories centered on her have come to light.
One of the popular theories circulating among fans in 2018 was Rihanna's supposed banishment from the country of Senegal due to her alleged involvement in a Satanist group.
Has Rihanna been banned from Senegal?
Despite rumors and conspiracies circulating, Rihanna was not banned by the Senegalese government and traveled to the country for the conference as planned.
Senegal is made up of powerful religious organizations, including a association of about thirty Islamic associations called "No to Freemasonry and Homosexuality", which called on the government to cancel the pop star's visit.
Many of these same religious groups in Senegal protested the singer's entry into the country due to her alleged involvement in the Illuminati.
The groups also feared that the singer was "promoting homosexuality in collision with Freemasons."
While 'No to Freemasonry and No to Homosexuality' groups protested the pop star's arrival, their actions did not stop her from entering the country.
The President of Senegal, Macky Sall, was present at the conference and delivered a short speech to the audience.
Additionally, there is no evidence that supports Rihanna's involvement with the Illuminati.
Conspiracies swirled that Rihanna was banned from Senegal for being a member of the Illuminati.
The Illuminati are a group supposed to be made up of those in Hollywood's elite, politicians and bankers who are secretly taking over the world.
However, there is no definitive proof that this group exists.
Other celebrities including Katy Perry, Jay-Z and Beyoncé have also been accused of being part of the Illuminati.
In February 2018, Rihanna was to travel to Senegal, a West African country, to attend a conference, alongside French President Emmanuel Macron, on the promotion of education in developing countries.
Her role as an ambassador for the Global Partnership for Education was a key factor in getting the message across at the conference.
The organization supports schooling and education in 65 developing countries.
Some people thought Rihanna's visit to Senegal was to attend a Freemasons conference.
"Rihanna does not hide it: she is part of the Illuminati, a branch of the Freemasons", declared Cheikh Oumar Diagne, spokesperson, told Young Africa.
Freemasons are another secret society like the Illuminati. Diagne pointed out that a conference of Freemasons had been scheduled for the same date as the educational conference but was ultimately cancelled.
Related stories from YourTango:
The meeting of African Freemasons was scheduled to take place from February 2 to 3, 2018 in Dakar, the Senegalese capital.
However, the plans fell through after another religious organization forced a local hotel to drop its bid for the venue.
Yet people insisted that Rihanna was planning preaching his Illuminati ideals for them.
Some Senegalese residents claimed that Rihanna's visit was "orchestrated with the complicity of the government, in order to deploy an educational regimen that aims to create future generations of loyal followers of Satan."
Megan Quinn is a writer at YourTango covering entertainment and news, self, love and relationships.