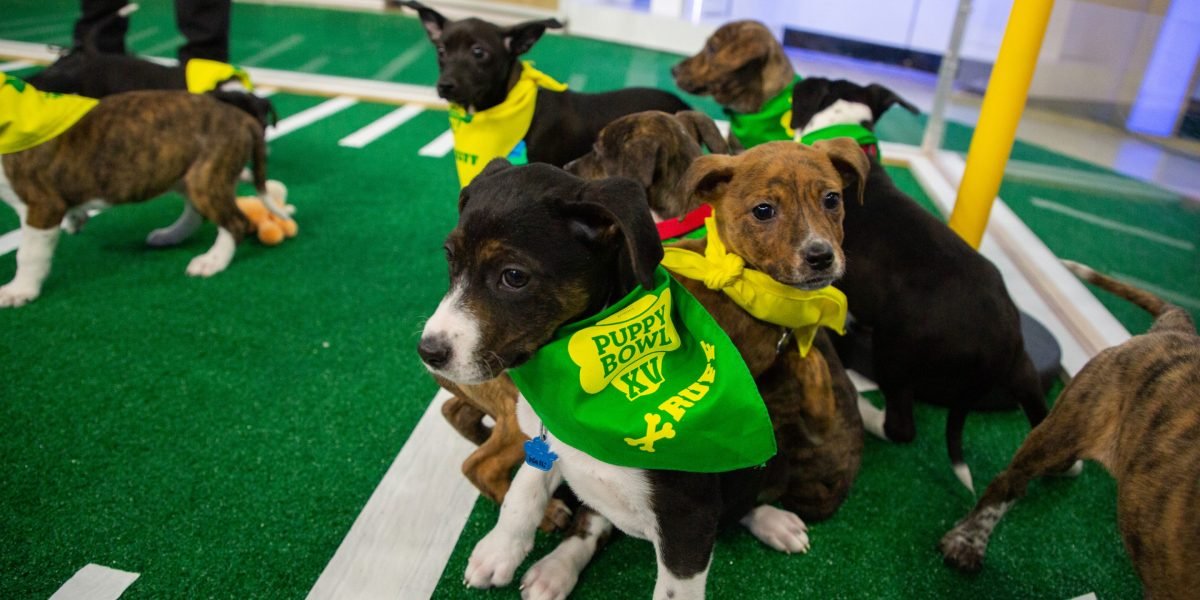 Maybe, just maybe, Super Sunday is all about the canines for you.
If so, you are not alone. For 19 years, Animal Planet has hosted the Puppy Bowl, an event that raises awareness for pet adoptions and brings out far more "Awws" from the viewer than this other unfolding game.
This year's Puppy Bowl will be the biggest yet. There are 122 players representing 67 shelters from 34 states. And the pre-game and gameplay elements will run for three hours, if you're a little sick of hearing about the (admittedly impressive) Philadelphia Eagles and Kansas City Chiefs seasons.
So grab some kibble and a bowl of water, sit down and stay. Here are all the details you'll need to see this 2023 Puppy Bowl.
Which channel is broadcasting Puppy Bowl 2023?
Animal Planet will once again host the exhibit, with a pre-show airing on both that network and Discovery+. This year, however, the Puppy Bowl is significantly expanding its footprint.
In addition to airing on Animal Planet, the game will air on TBS, Discovery chain and on HBO Max.
What time does Puppy Bowl 2023 start?
The three-hour competition will begin streaming at 2:00 p.m. ET. the pre-game show, however, will begin at 1:00 p.m. ET.
Be sure to keep an eye out for the Puppy Cheer Squad, Water Bowl Camera, Slow Motion Camera, and End Zone Pylon Cameras.
Who is the Puppy Bowl 2023 referee?
Dan Schachner, who has kept tabs on the game for the past 11 years, will return once again. Sportscasters Steve Levy and Taylor Rooks will handle play-by-play calls.
Who is performing at Puppy Bowl 2023 halftime?
The Super Bowl might have Rihanna, but the Puppy Bowl will feature the "Kitty Half Time Show." You decide what suits you.
Can I watch Puppy Bowl 2023 for free live?
Unfortunately, Puppy Bowl is a cable exclusive, so you won't be able to watch with an antenna. But that doesn't mean you're absolutely unlucky…
How can I stream Puppy bowl 2023 live online if I don't have a cable subscription?
Animal Planet, TBS and Discovery are broadcast by several streaming services. If you don't have a cable or satellite subscription, here are some suggestions to try:
HBO Max
The Warner Bros. Discovery streaming service. offers a seven-day free trial, followed by a monthly fee of $15.99.
Disney+
The Disney bundle from Disney+, Hulu and ESPN+ no longer has a free trial, so you'll have to pay $13.99 per month for all three handsets (or $19.99 per month ad-free on Hulu). Including live TV in the package bumps the price up to $70 per month ($76 ad-free).
Hulu with Live TV
The free trial on this service is also no longer offered. It will cost you $70 per month.
YouTubeTV
After until one two week trialyou can expect a monthly fee of $65.
TV Sling
Dish Network's Sling recently increased its prices. The lower-tier "Orange" plan will now cost you $40 per month. Adding the more comprehensive "Blue" plan bumps the cost up to $55 per month. (A $5 per month increase for each.) The seven-day free trial is gone with the price increase, but the cord-cutting service is offering 50% off the first month's bill.
DirecTV streams
Formerly known as DirecTV Now, AT&T TVNow and AT&T TV, this oft-renowned streaming service will cost you $70 per month and more after the free trial option.
Fubo TV
This sports-focused cord cutter service broadcasts broadcast networks in most markets. There's a seven-day free trial, followed by monthly fees of $70 to $100, depending on the channels you choose.
Can I adopt a dog during Puppy Bowl?
You can! Throughout the program, 11 shelters will each present one of their puppies (and three kittens will be presented at halftime). All are up for adoption.
Among the animals featured this year are Julius (a hearing-impaired Dalmatian), Marmalade (a hearing-impaired Border Collie/Australian Cattle Dog) and Mykonos (an American Staffordshire Terrier/Bulldog with a cleft palate).
Learn how to navigate and build trust in your business with The Trust Factor, a weekly newsletter examining what leaders need to succeed. Register here.