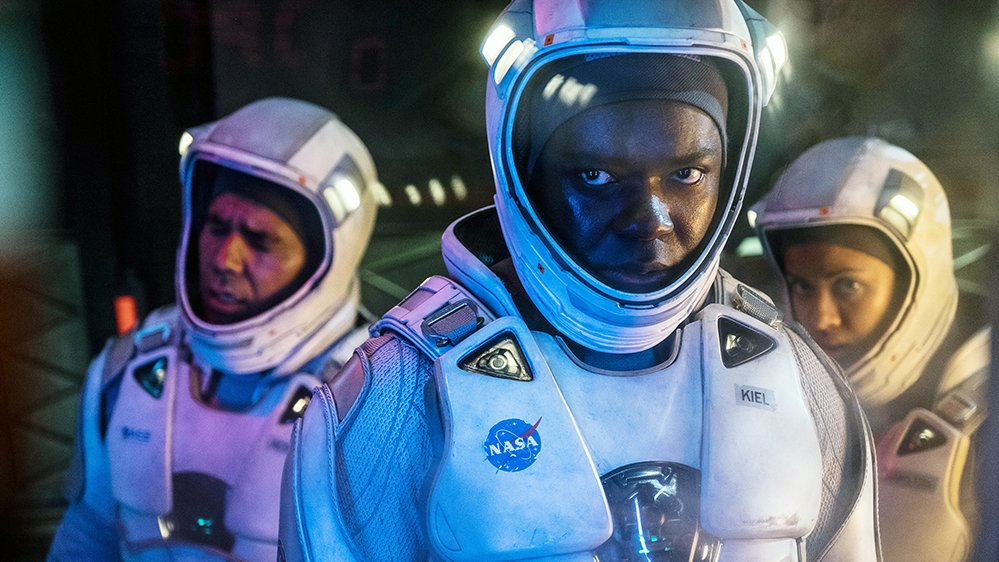 "#FilmTwitter is going to explode tonight," director Ava DuVernay tweeted on February 4, 2018, minutes before the kickoff of superbowl LII. "Something is happening that I find hard to believe. Loud. History in motion. »
Just over an hour later, the world found out what the famous director and producer was referring to. During a commercial break, netflix created the first images of "The Cloverfield Paradox," a sci-fi thriller that originally bore the enigmatic title "God Particle," sparking speculation online about its potential ties to the "Cloverfield" franchise. Plus, the splashy ad was capped off with a mic drop moment – ​​the film would be available to stream immediately after the game.
Super Bowl commercial breaks are the notorious prime real estate in the advertising market (in 2018, a 30-second time slot was reportedly valued at over $5 million). It's become an annual tradition for studios to use the event to introduce audiences to their next blockbuster hopefuls. This year, big trailers for 'Fast X', 'The Flash', 'Air' and several other titles are all linked to the biggest night in football.
But Netflix took that tradition one step further with "The Cloverfield Paradox," enticing viewers with trademark curiosity and the promise of near-instant fulfillment. There was no need to think of an activity for your Super Bowl party cooldown – Netflix had you covered.
"The Cloverfield Paradox" follows in the cryptic marketing tradition of the 2008 found-footage original "Cloverfield" (which filmed a teaser before it even began main production) and its 2016 hit sequel "10 Cloverfield Lane. ", a single-location thriller that effectively announced that a "Cloverfield" entry could take just about any form. The Super Bowl teaser played as a series of callbacks to the first "Cloverfield," along with space station disasters and an ominous distress call from an astronaut played by Gugu Mbatha-Raw.
Advertising was quite flexible for Netflix, the dominant streamer at the time.
"That's when some studios started to look very seriously at launching their own competitive service," says Richard Cooper, research director at Ampere Analysis.
Still, the release of "The Cloverfield Paradox" was reported as a mixed success at best. According to Nielsen data at the time, an estimated 785,000 people watched "The Cloverfield Paradox" on its debut night, with an estimated 2.8 million views in the first three days. That's a sizable audience, but it fell far short of "Bright," the gnarly crime fantasy movie starring Will Smith, which pulled in 11 million Netflix viewers in the same three-year launch window. days only two months earlier.
A largely negative critical reception did not help. There were plenty of reasons to be excited about "The Cloverfield Paradox," an entry in a hip genre franchise renowned for its inventive surprises. Along with Mbatha-Raw, the film featured a diverse cast of famous but under-the-radar talent, including David Oyelowo, Elizabeth Debicki and Zhang Ziyi. The film also represented a top feature by rising black filmmaker Julius Onah, which had public support from the likes of DuVernay and JJ Abrams. But critics called the entry a forgettable disappointment. In Variety reviewchief film critic Owen Gleiberman was downright dismissive, saying that "it's hard to know what's real and what isn't, and even harder to care."
Paramount, which produced the first two "Cloverfield" movies, had originally set a theatrical release for the sequel. But the film's over $40 million production budget would have questions left on its potential profitability. The Paramount problem represented a unique opportunity for Netflix, which would have paid over $50 million for the film's broadcast rights.
With a brief ad planted in front of the biggest TV audience of the year, the streamer effectively turned a project most audiences hadn't even heard of into an exclusive event. The ad reaffirmed the influence Netflix held with consumers – an achievement more valuable than the successful promotion of the film itself.
"It was a bold statement from Netflix that they could still pick up some pretty big titles, major franchises — and they could launch movies and still make them a big hit," Cooper said.
While surprise drops are fair game in the music industry — a Beyoncé album might pop up suddenly when it wasn't on anyone's radar a week earlier — it's not a popular decision in the movie industry, which relies on creating a buzz over weeks or months. Netflix has dabbled in fast turnarounds in the years since, most notably last year when a secret bonus episode of "The Sandman" was released weeks after the series debuted. But feature films are huge financial investments that need to generate enough gossip to justify their price tag.
"A lot more awareness is needed to create anticipation. It's something that drives subscribers to a service — the anticipation that they're going to be able to watch these things," Richard says. "Even dropping 'The Cloverfield Paradox' like they did doesn't fuel that level of anticipation."
For a streaming service, an unreleased movie may be even more valuable than an available movie. By planting a flag on a release date, streamers encourage users to stay subscribed to their service. Last year, Netflix reported its first-ever loss of subscribers in a financial quarter, sending the industry into a tailspin as streaming's long-term potential was reassessed. Now, retaining subscribers is more imperative than ever for these services – release dates and teasers give users a reason to stick around.
"Streamers are very unlikely to start over with features," says Cooper. "You have to make as much noise as possible."
Five years later, "The Cloverfield Paradox" is nothing more than a jolt in the rearview mirror of the industry. Netflix continued to advertise during the Super Bowl, although its ads served more as branding exercises than promotions of individual productions. Last year's sizzle reel teased movie releases like "The Gray Man," "Me Time," "The School for Good and Evil," and a spotlight on "The Adam Project."
Onah actually rebounded with his highly rated 2019 Sundance drama "Luce" and has since been tapped by Marvel Studios to direct "Captain America: New World Order," starring Anthony Mackie. Meanwhile, after a dormant period, there's a new 'Cloverfield' movie. in the works at Paramount.
It's been half a decade and the Philadelphia Eagles are back at the Super Bowl. But "The Cloverfield Paradox" is still available to stream on Netflix. He didn't go anywhere.