Introduction
Qantas Airways (OTCPK: QABSY) is Australia's largest airline and one of the oldest in the world, having been founded in 1920. And, by the way, just so you know. Survive as long in the airline industry is a major feat considering the many high profile failures…looking at you Pan Am!
Interestingly, Qantas operates a fleet consisting of both Boeing (BA) and Airbus (OTCPK: EADSY), including domestic and international air passenger and cargo flights carrying millions of passengers and cargo each year.
But despite the global shock caused by the pandemic, Qantas' returns have been strong.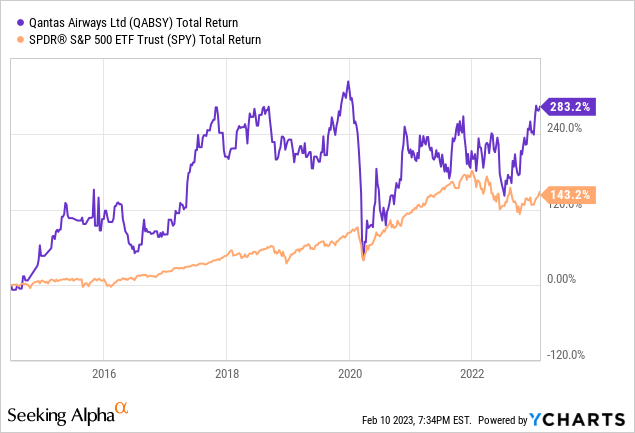 In fact, over the past decade, the total stock return is around 283%, beating the S&P's return of "only" 143%.
As we launch into 2023, let's hope to put COVID-19 behind us once and for all everything, I think it's a good time to look at Qantas' business, see how they've recovered from the COVID-19 shutdown and see where things can go from here.
Industry Overview
Let's start with an overview of the industry…
The airline industry is a highly competitive market characterized by the constant introduction of new aviation technologies and the need to meet ever-changing customer demands. Low-cost innovators, such as Southwest (LUV) and Ryanair (RYAAY) forced former players to adapt and change, which often hurt margins, more on that later.
The industry is also subject to fluctuating fuel prices, economic conditions, and government regulations, all of which can impede their operations. As we all know, the COVID-19 pandemic has had a significant impact on the industry, causing a sharp drop in demand for air travel and putting additional pressure on many airlines to cut costs and restructure their operations.
The rise of low-cost carriers as well as COVID has served as a punch to traditional airline operators such as Qantas.
Entry barriers
While competition is fierce in the industry, there are also a few barriers to entry including the high cost of purchasing and maintaining aircraft which can cost hundreds of millions of dollars per aircraft.
Further restricting competition, airports and air traffic control systems are heavily regulated and subject to capacity constraints. These constraints can limit the growth of airlines and make it difficult to expand their business. Air transport infrastructure is critical to the airline industry, and infrastructure limitations can make it difficult for airlines to meet growing demand.
The combination of high investment costs and infrastructure constraints makes the airline industry a difficult place for new entrants to compete and establish a profitable business.
History of expansion and growth
Qantas has a long history of growth and expansion, domestically and internationally. Over the years, the company has expanded its fleet and expanded its route network, becoming one of the largest and most successful airlines in the world. Over the past few years, Qantas has continued to grow and expand its operations, including the expansion of its low-cost subsidiary Jetstar and the growth of its international activities thanks to its Partnership with Emirates.
To support this growth, Qantas announcement they will order dozens of planes from Airbus to expand its long-haul services. The airline's Project Sunrise plans to launch non-stop flights from Sydney to London and New York in late 2025.
The flights aim to build on the success of existing direct long-haul services, demand for which has increased since the Covid-19 pandemic. The Airbus aircraft order includes 12 A350-1000s configured for "ultra-long" transport. The airline did not disclose the cost of the Airbus order, but said a significant discount should be assumed. The order should be seen as a clear vote of confidence in the future of Qantas, according to CEO Alan Joyce.
finance
Now that we understand Qantas and the airline industry, let's take a look at their finances to see how they stack up against their peers and to see if any trends have emerged over time.
Margins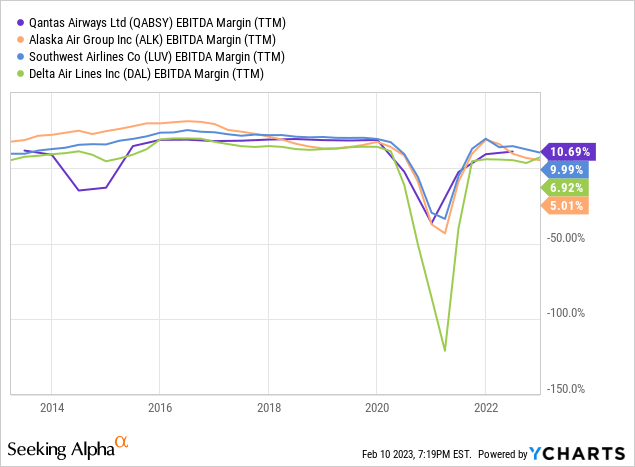 Looking first at Qantas' margins versus its US counterparts: Southwest, Alaska Airlines (ALK), American (AAL) and Delta (DAL), we can see that Qantas narrowly takes a win with an EBITDA margin of 10.69%.
As you can see in the graph above, margins are still lower than they were before covid, I think this is, at least in part, due to the lack of business travellers. Business travelers usually travel in higher classes, such as first class or business class, which have higher ticket prices than standard class. Additionally, business travelers often book last-minute or flexible tickets, which also command higher prices.
Given that business travelers may be gone for good, at least according to some analysts, investors may want to consider that these lower margins may be here to stay for now.
PES history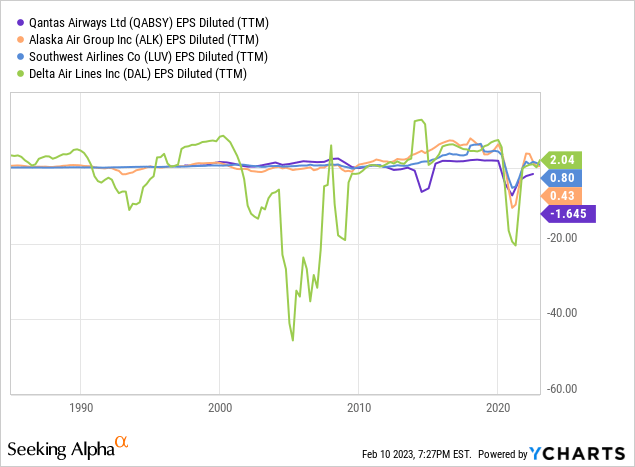 While a 10% EBITDA margin isn't great in the business world, it isn't horrible either. I cannot say the same for the EPS performance of these companies. Decades pass with marginal growth in earnings per share and cyclical demand slumps that hit EPS fast and hard.
Return on invested capital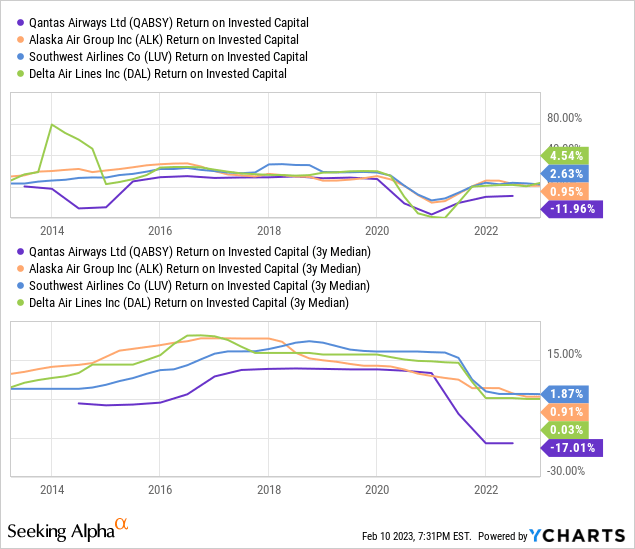 The story only gets darker from here, Qantas' ROI is just plain depressing to me. Looking at their average returns on capital over the past decade, we can see that they are generally only able to generate low single digit returns. This begs the question: when you can get a 4.5% 2 year Treasury return, I don't know why I would allow any of these companies to invest my capital for me.
To conclude
In conclusion, the future of Qantas and the airline industry as a whole remains uncertain. Despite its long history of growth and expansion, Qantas' margins are lower than they were pre-COVID, and they may not recover soon given the loss of business travellers. This is a major concern, as business travelers typically fly in higher classes and book last-minute or flex tickets, all of which come at higher prices than standard-class tickets.
Additionally, Qantas' financials paint a gloomy picture with weak earnings per share growth and a return on invested capital that leaves much to be desired. The airline industry is a tough and competitive market, characterized by the constant introduction of new aviation technologies, changes in fuel prices, economic conditions and regulations, which make it difficult for airlines to generate significant returns for investors.
Because of all these factors I value Qantas stock for Sale, I view the recent rise in equities as a good opportunity to cut.
Editor's Note: This article discusses one or more securities that do not trade on a major US exchange. Please be aware of the risks associated with these actions.