Sizes: 42, 48, 55, 65, 77, 83 inches
Screen technology: OLED Evo
Processor: Alpha a9 Gen 6
HDMI: 4xHDMI 2.1
HDR: Dolby Vision, HDR10, HLG
This is an excellent mid-range TV this year, sitting between the B3 and G3 in LG's lineup. It features LG's latest and greatest image processor, which should increase contrast and color realism in scenes. A new media switching feature is also thrown into the mix – but the changes from last year's LG C2 are very small, including brightness and reflectivity.
For
New image processor
More sizes available
More affordable
Against
No brightness change from last year's C2
Much less bright than the G3
Sizes: 55, 65, 77, 83 inches (97 inches in UK and Europe)
Screen technology: OLED Evo with Light Control Architecture
Processor: Alpha a9 Gen 6 chip
HDMI: 4xHDMI 2.1
HDR: Dolby Vision, HDR10, HLG
The LG G3 is at the premium (and therefore more expensive) end of LG's 2023 lineup. Its new Light Control Architecture technology means it's the brightest OLED to date, massively beating the C3 in this area. It has a slim design with a slim bezel and it is designed to be wall mounted. A few small improvements improve audio performance.
For
Huge improvement in brightness
New image processor
beautiful design
Against
More expensive
Does not come with stand
Fewer sizes
2023 coming LG C3 OLED And LG G3 OLED models are intended to be two of the best OLED TVs of the year.
Replacement of the LG C2 OLED And LG G2 OLED 2022 lineups, each will offer stronger performance than its predecessor…but one has taken a bigger leap than the other, that's for sure.
At a glance, C3 and G3 mainly differ in size and brightness. The latter starts at 55-inches and up, also offering LG's latest-generation Brightness Booster Max and Light Control Architecture technology, which should make it the brightest OLED TV yet when it launches. The C3 offers significantly less bright HDR performance, but is aimed at people with less space thanks to a larger screen size – and, perhaps most importantly, will be the cheaper of the two.
To help you determine the best LG OLED TV for 2023, we've rounded up everything we currently know about each panel – covering price, size and performance differences – to help you decide which one to choose when they launch in March 2023.
LG C3 OLED vs LG G3 OLED: Price, sizes and availability
The most decisive differences between the LG C3 and G3 will be their prices and sizes, for most people. The G3 is the most expensive model, while the C3 has a wider range of options and is cheaper for the same sizes.
At the time of publication, we don't yet have official prices for these sets, but expect them to be in line with the launch prices of last year's LG C2 and LG G2, so here are those prices at various sizes as a guide to what's likely.
Swipe to scroll horizontally
| Size | LG C2 price | LG G2 price |
| --- | --- | --- |
| 42 inches | $1,399 / £1,399 (around AU$2,000) | N / A |
| 48 inches | $1,499 / £1,399 (around AU$2,200) | N / A |
| 55 inches | $1,799 / £1,999 (around AU$2,600) | $2,199 / £2,399 (around AU$3,200) |
| 65 inches | $2,499 / £2,799 (around AU$3,600) | $3,199 / £3,299 (around AU$4,700) |
| 77 inches | $3,499 / £3,699 (around AU$5,100) | $4,199 / £4,499 (around AU$6,100) |
| 83 inches | $5,499 / £4,799 (around AU$8,000) | $6,499 / £6,499 (around AU$9,300 |
| 97 inches | N / A | $24,999 / £24,999 / (around AU$43,000) |
A glance at the above should quickly tell you which of the C3 and G3 TVs is right for you if you have specific size needs. Those looking for a state-of-the-art monitor that will fit into a smaller room, such as a bedroom or office, will find the C3's 42-inch and 48-inch models to be ideal. If you've got a colossal wall and money's no object, the brighter, thinner G3 is the TV your home cinema has been craving.
The C3 and G3 are expected to launch in March 2023.
LG C3 OLED vs. LG G3 OLED: Features
The C3 and G3 will be the most feature-rich TVs the company has ever produced. Both use LG's Alpha a9 Gen6 chip, which promises to add even more realism to contrast and color handling. Really, the difference is likely to be minimal in day-to-day use, but those looking for the absolute best will be reassured to know that both incorporate LG's most advanced processing technology to date.
The big difference in image quality between the C3 and G3 is the OLED panel used. While the C3 continues to use the OLEV Evo technology seen in last year's C2 lineup, the G3 sports a next-gen version with what LG calls Light Control Architecture and amplification algorithms. the light. These are also known as Micro-lens matrix and META technologyand can potentially boost peak HDR brightness to 2,100 nits – though we expect actual results to be more like 1,300-1,400. For comparison, the LG C2 (and we don't expect what the C3 changes a lot) reaches around 800 nits.
So while we'll have to wait to confirm things, put simply, it looks like we're talking about a 60% increase in brightness from model to model, and that has a big effect on the looks brilliant white tones, and how dramatic and lifelike the contrast is overall.
There's another difference, however, which is that the LG G3 has a more advanced anti-reflective layer. This means its images are less washed out by glare when it's bright, meaning it essentially gets a double boost to its brightness, as what it's capable of can pass through bright rooms more easily. We've seen the same type of screen in a different TV, and the difference is huge.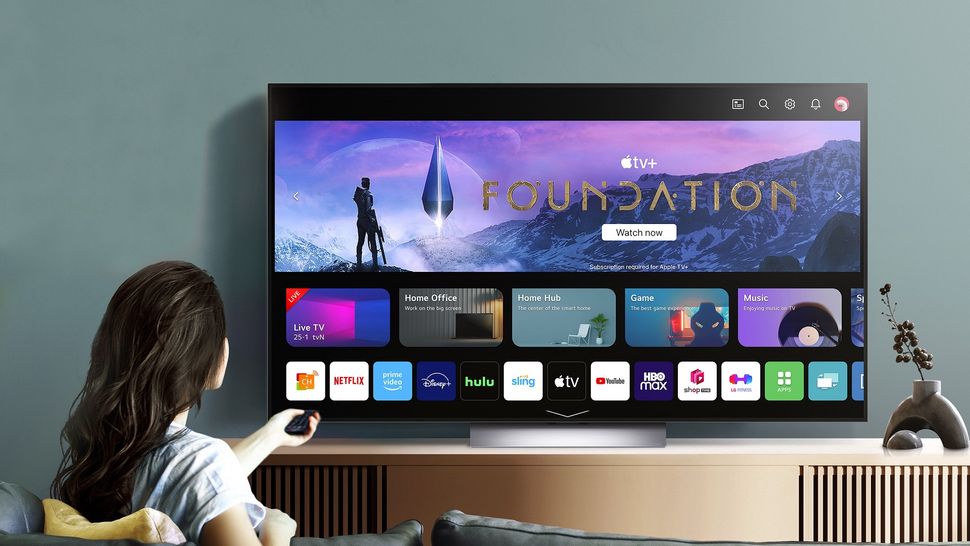 But what about other features? Well, both sets support Dolby Vision IQ and Dolby Atmos, and with four 4K 120Hz HDMI 2.1 ports, sub-10ms input lag, G-Sync and VRR support for gamers on PC and dedicated gaming optimization settings to squeeze every last bit of performance from the latest PS5 and Xbox Series X titles, LG's 2023 panels are the ultimate gaming displays.
One of said ports on these TVs also supports eARC for convenient connections with any of the best soundbars. Speaking of which, they also support LG's new Wow Synergy feature, which means that if you're using a compatible LG soundbar (which includes affordable models, as well as the powerful LG S95QR after an update)
Quick Media Switching VRR is also a feature supported by both TVs. It might not exactly stick out the tongue, but this new technology should ensure that you're no longer subject to black screens when switching between HDMI 2.1 ports and allows compatible streaming boxes (such as the AppleTV 4K 2022) to switch between different frame rates for movies and TV shows without any interruptions.
The C3 and G3 OLEDs promise sleeker smart TV software, which offers more user-friendly user profiles. When you switch on either panel for the first time, the TV can also guide you through various personalized picture presets, giving you a quick 'eye test' through different pictures to choose your setting. preferred with minimal hassle. It's also faster to find what you like to watch across different streaming services and access useful menu options.
LG C3 OLED vs. LG G3 OLED: Design
From a design perspective, the big difference is whether or not you want to wall-mount the TV. Both can be wall-mounted, but the G3 is really designed for that, with an ultra-slim design that comes with a special mounting bracket that allows it to sit totally flush with the wall, if you so choose. However, it does not come with any type of stand. At all. You can buy legs or a floor stand separately.
While the G3 is intended to hang on the wall, the C3 comes with a stand, which makes it much more practical for the majority of TV buyers. The inclusion of the 42 and 48 inch models means the C3 is much more compatible for those looking for something for a small room, but a move to carbon fiber in the body in larger sizes means it is also a bit lighter than the average TV.
LG C3 OLED vs. LG G3 OLED: conclusion
It's quite simple: if you want the best picture quality, the LG G3 looks truly groundbreaking. Apart from the new processor, the screen with much lower reflectivity and much higher brightness will be much more dynamic and realistic. It'll be a major step up, based on our experience with the new screens so far – but we'll have to wait for our full reviews to be absolutely sure.
However, the C3 has more sizes and is much more affordable, while retaining the same features as the G3 apart from the screen itself. So it will depend on how big you need it, how much budget you have…and whether you can be tempted by what seems to be LG's best picture quality.