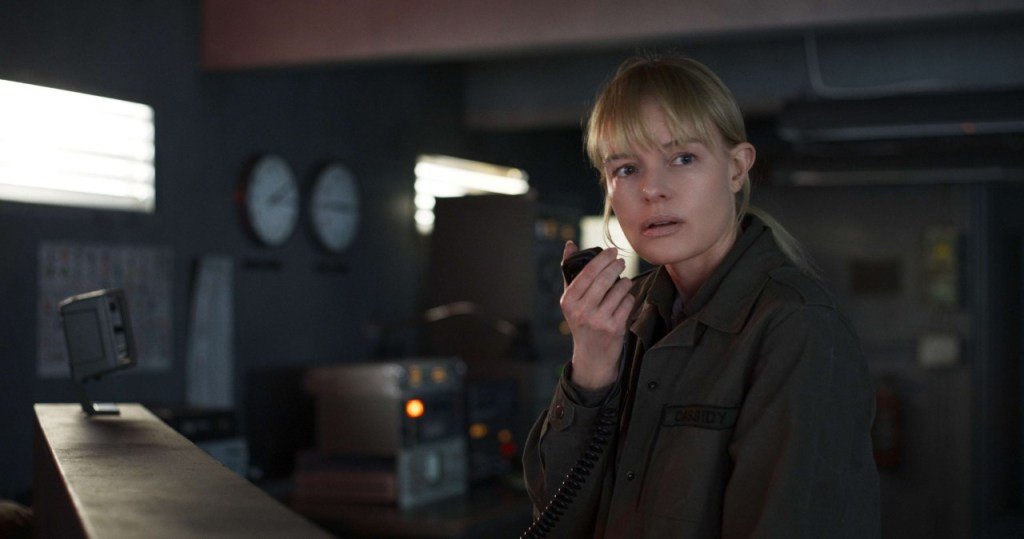 EXCLUSIVE: Vertical got the NA rights to a sci-fi thriller last sentrywritten by Malachi Smyth and directed by the Oscar-nominated director Tanel Tom. movie stars Kate Bosworth (On the way for the ride), Lucien Laviscount (Emily in Paris), Thomas Kretschmann (Overflowing swimming pool)and Martin McCann (The informant).
In the near future, rampant, uncontrolled climate change has caused catastrophic rises in temperatures and sea levels. Only two major continents remain, and billions of people die in the mass migration to these higher lands. Surrounded by an endless ocean thousands of miles from home, a skeletal crew of soldiers (Bosworth, Kretschmann, Laviscount and McCann) stand as the last bastion, defending their homeland against invasion by an enemy they never knew. have ever seen, watching for signs of attack and ready to sacrifice themselves for the cause. Their tour of duty ended 3 months ago with no relief in sight. Alone and uncertain of the fate that awaits them, the simmering tension among the crew escalates when a mysterious boat drifts into range – is it the help they've been waiting for, or something far more sinister. ?
The Last Sentinel is produced by Ben Pullen, Ivo Felt, Jorg Bundschuh, Pippa Cross and Matthew James Wilkinson. Peter Jarowey, Rich Goldberg and Mitch Budin of Vertical are executive producers of the film with Phil Hunt and Compton Ross of Headgear, Will Clarke of Altitude, Andy Mayson and Mike Runagall, Carlos Gerstenhauer of BR/Arte, Sentinelby Sam Corsellis and William Pullen, Rain Rannu from Tallifornia, Raido Toonekurg from Ichiban with Janette Day, Malachi Smyth and Josef Brandmeier.
"We are delighted that the public can finally discover the world of last sentry. A world of terrifying storms, of fear and mistrust, of love and deep pain, and of primordial hope for a better future," commented producer Ben Pullen. "This film, made with the blood, sweat and tears of cast and crew, will hopefully captivate audiences with its powerful emotional journey and delight them with its bold and eerie vision of a future Earth. ."
Vertical Partner Peter Jarowey comments: "last sentry does an incredible job of immersing the viewer in the harrowing and desolate conditions of this watchtower in which the crew is trapped but refuses to give up. The chaos of being stranded at sea is as terrifying as it is beautiful in its portrayal, and each character delivers the performance of a lifetime. Audiences will be captivated from start to finish.
Jarowey and Vertical's Senior Vice President of Acquisitions Tony Piantedosi negotiated the deal on Vertical's behalf, while Altitude Film Entertainment's Mike Runagall negotiated on behalf of the production. last sentry is in coproduction with Bayerischer Rundfunk in cooperation with Arte, financially supported by Estonian Film Institute, FernsehFondsBayern, Bayerischer Bankenfonds, Deutscher Filmfonds, Estonian Cultural Endowment and MFG Filmförderung Baden-Württemberg.
Kate Bosworth is replaced by Jim Osborne, Kris Heller and John Nahai at APA and Morris Yorn Barnes Levine, Thomas Kretschmann by Barry McPherson at APA, Lucien Laviscount by John Summerfield at Waring and McKenna and Martin McCann by Ollie Azis at Independent Talent. Tanel Toom is replaced by Michelle Archer at United Artists and Abram Nalibotsky at Gersh, and Malachi Smyth by Andrew Mills at Revolution Talent and Abram Nalibotsky at Gersh.