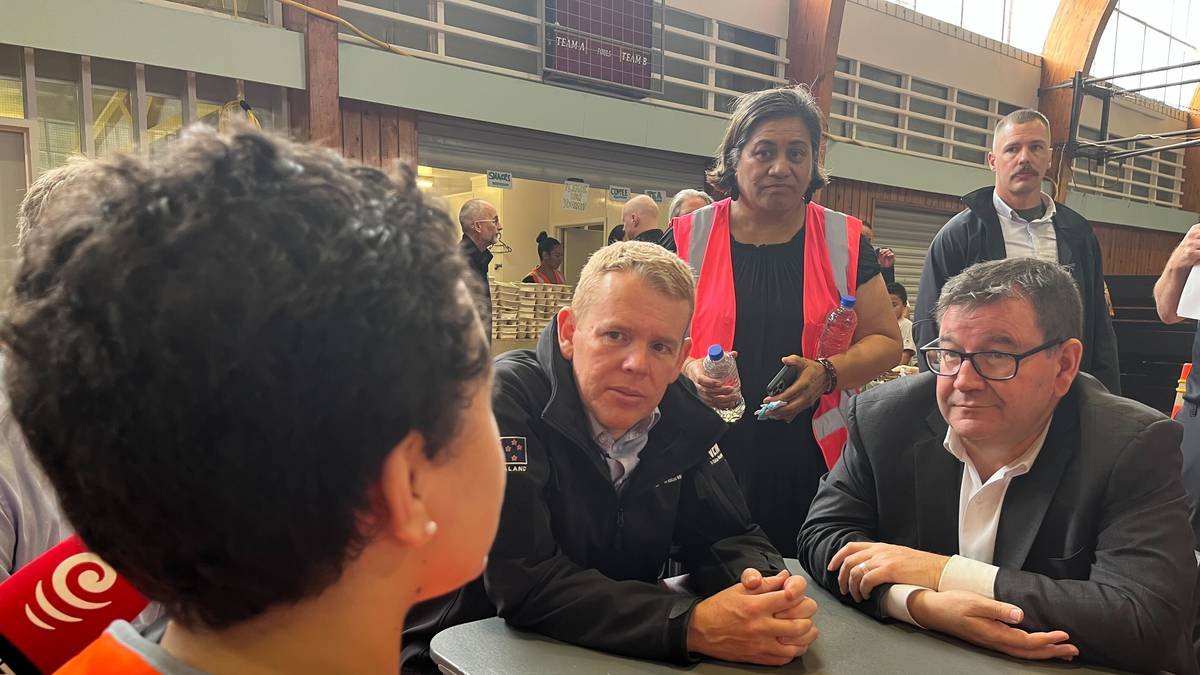 Prime Minister Chris Hipkins and Finance Minister Grant Robertson visit Moana Nui, a Kiwa center in Mangere during the floods. Photo/Aaron Dahmen
Finance Minister Grant Robertson said Hurricane Gabrielle would have a "multibillion-dollar price tag" and the amount of new money earmarked for this year's budget was being reassessed.
Robertson had tried to stick to a previously reported allocation for Budget 2023 of $4.5 billion in new operating spending and $12 billion in multi-year capital spending, fearing additional spending would increase the 'inflation.
Instead, Robertson last year said some new initiatives would be funded by reprioritizing funding for existing spending.
In a Q+A interview with Jack Tame, Robertson suggested he may be forced to both increase new spending to fund flood reconstruction, while reprioritizing existing spending, as capacity constraints of the economy made it difficult to do everything at once.
"That's what we're reassessing now. You can imagine the pressure the response to a massive event like this will have," Robertson said.
"We are saving for a rainy day, we have a lot of it right now and we will respond," he said.
Robertson said it was not possible to put an exact price on the disaster at this time, but would be smaller than national events like the Covid-19 pandemic and comparable to regional events like the tremors. of Canterbury Land.
"It's something more like the Kaikoura and Canterbury earthquakes because it's quite regional but there are a number of regions involved. Obviously the level of devastation in terms of infrastructure in terms of houses and infrastructure is very high.
"It's going to be the greatest weather event of this century and it's going to have a multi-billion dollar price tag," Robertson said.
Robertson said the cost would be shared between the Crown and private insurers.
"It's very early days," Robertson said.
He hinted at "sector-by-sector" economic support programs to be rolled out for industries devastated by the cyclone, as well as regional support.
"That's where it's a bit different from Covid in the sense that things are going to be different in different places. My thoughts are with the primary producers in these areas who have potentially lost all of their crops or their entire herd," Robertson said.
He said those costs were on top of the cost of Auckland's floods. The Waka Kotahi NZ Transport Agency estimated that damage to roads alone during these floods was estimated at $1 billion. Put into perspective, Waka Kotahi spent $4.7 billion across all classes of transportation last year.
Robertson acknowledged that one of the challenges of rebuilding is a tight labor market, which means there aren't enough workers to do what the government needs.
Earlier this week, Robertson said the government was reviewing visa parameters which could be adjusted to increase the supply of labor for reconstruction – which was done in the wake of the Canterbury earthquakes.
In the 2022 budget, the Treasury warned that it was "not possible to provide the total additional manpower sought" from expenditure. Robertson said the government would consider sequencing what it was doing to ensure the workforce was deployed to where it was needed most.
He told Q+A that he would change "sequencing – phasing".
"There might be projects in these kinds of sectors in other parts of the country that won't move as quickly," he said, noting that teams from the South Island had already left for the country. north to help rebuild.
For more political news and opinions, listen to On the Tiles, the Herald's political podcast