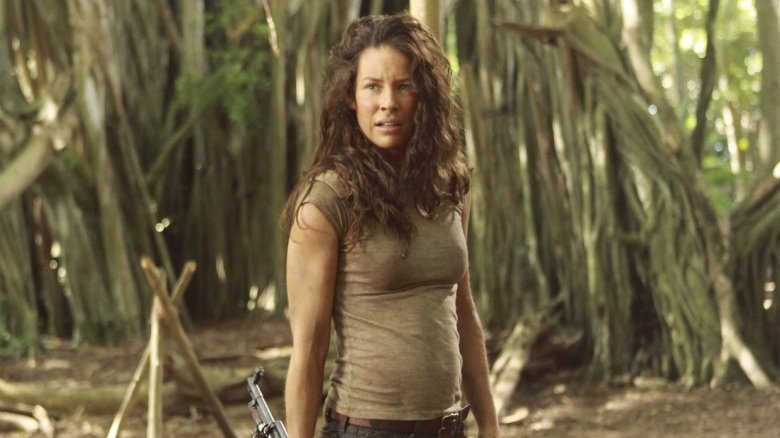 "I feel like Season 3 was a turning point," Lilly said. "I started trying to learn my trade."
Evangeline Lily was literally lost on set for her breakout role in "Lost."
The 'Ant-Man and the Wasp: Quantumania' actress has revealed she found the early seasons of JJ Abrams' hit show "cringe" due to his "poor" acting.
"We would have 'Lost' parties where the cast would get together to watch the show, and when it was a Kate-centric episode, I would cower in a hole and die because I knew I was bad," said Lilly. during the "Happy Sad Confused" podcast. "And I will still to this day maintain the fact that I can watch the first two seasons and I cringe because I'm not very good."
"Lost" debuted in September 2004 and ran for six seasons, ending in May 2010.
"I feel like Season 3 was a turning point, where I went from 'freaked out, figure it out, just pull from the hip, feel it, follow my gut' to 'I hate this, I don't don't wanna do this, get me out of here," to "oh, I guess if I'm here I'm stuck and I'm gonna stay, I should figure it out," Lilly continued. "And that was in Season 3, and I started trying to learn my craft."
It was during the first season of "Lost" that Lilly was also approached by Joss Whedon to play the role of Wonder Woman in an episode of DC.
"It didn't go down well and there was nothing about the meeting that got me excited or made me think, 'Oh, I have to do this.' Nothing clicked. Nothing good," Lilly said. "I'm way too authentic for my own good. I mean, it's not good. If I'm not impressed, you'll know it. -maybe you shouldn't know sometimes.
Lilly also infamously turned down a role in the "X-Men" franchise after her "Real Steel" co-star and Wolverine actor Hugh Jackman asked her to join the franchise.
"I was like, 'No. I'm not interested. I'm not interested,'" Lilly said. "I was like, 'I feel like such a prick because I'm talking to an X-Men ! The X-Men! And I tell him: 'No, you don't like it. Like what?!' I felt so rude!
She added, "[I was] too young to be so polite.
Register: Stay up to date with the latest film and TV news! Sign up for our email newsletters here.