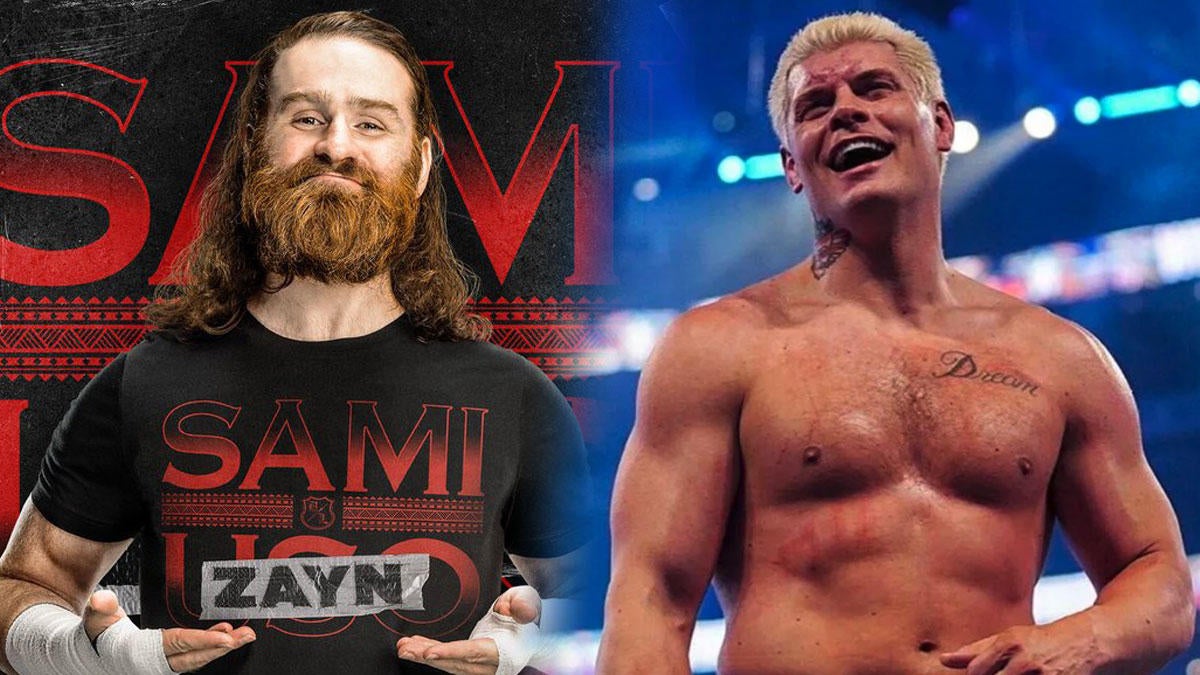 Tonight's WWE Elimination Chamber premium live event will move wrestling's best history into its next chapter, as Roman Reigns takes on former Uce Honorary Sami Zayn in the main event. Bloodline's story has been endlessly intriguing and will likely continue to be through WrestleMania 39. It's where Cody Rhodes awaits the winner of tonight's match, and Rhodes met Zayn at the Royal Rumble. Zayn revealed what Rhodes told him in a new interview with Fightful's Joel Pearl, and then told Zayn to end his story on the next episode of Monday Night Raw. It's rare that you have two scenarios that could be "one", but it seems that's exactly what happened here.
"It's an interesting time we find ourselves in," Zayn said. "When I saw him [Cody] at the Royal Rumble, the first thing he said to me was, "That's weird, huh? It's a strange time. There's two guys who could have easily gone either way to WrestleMania, Roman Reigns, all the signs point here…again, this guy's story also points there. He has already punched his ticket to WrestleMania. It's either me and him, which I think the fans are excited about, or [Elimination Chamber] is my WrestleMania."
"What's amazing is that WrestleMania is also my WrestleMania because of the position I'm in. If I could rewrite everything, I don't know if I would change anything. The fact that I have that match in Montreal, in a weird way, it's almost bigger than if I had that match with Roman at WrestleMania. I don't know if it gets any bigger than that," Zayn said.
Zayn received a royal reception in Montreal on this week's SmackDown, and the roar and chants of the crowd were truly a sight to behold. Zayn even came out to his old entrance music and wore a new shirt to commemorate the occasion, what if he beats Reigns? Well, it remains a historic moment in WWE history.
"If I win, forget it. This place is going crazy and I'm being blasted into the next stratosphere. You beat 'the guy.' Even if it's not the result, if it's some kind of draw, God knows what happens, even if I lose, whatever it is, I think the magnitude of the moment is going to be so huge and it's contagious. everything about Montreal, the love I had in Montreal, it's contagious. When the fans back home see that kind of reaction, it also triggers something in them," Zayn said.
"The fact that it's in Montreal, ignoring the obvious story of me coming here and not just being a Montreal guy, but being a product of this city, growing up in this city, doing the tiny little shows in this town that took me to the next step Every step of the way the fact is this town made me I'm just from here This town made me The The fact that we end up in this position is an easy story to tell. Beyond all of that, whatever happens to this game, it's going to be huge for me one way or another." , Zayn said.
You can find the full map for Elimination Chamber below:
Undisputed match for the WWE Universal Championship: Roman Reigns (C) vs. Sami Zayn
United States Championship Elimination Chamber match: Austin Theory (C) vs. Seth Rollins, Johnny Gargano, Bronson Reed, Damian Priest and Montez Ford
Raw Women's Championship #1 Candidate Elimination Chamber Match: Asuka vs. Liv Morgan, Nikki Cross, Raquel Rodriguez, Natalya & Carmella
Finn Balor and Rhea Ripley vs. Edge and Beth Phoenix
Brock Lesnar vs. Bobby Lashley
Are you excited about Elimination Chamber? Let us know in the comments or as always you can chat all things wrestling with me on Twitter @MattAguilarCB!