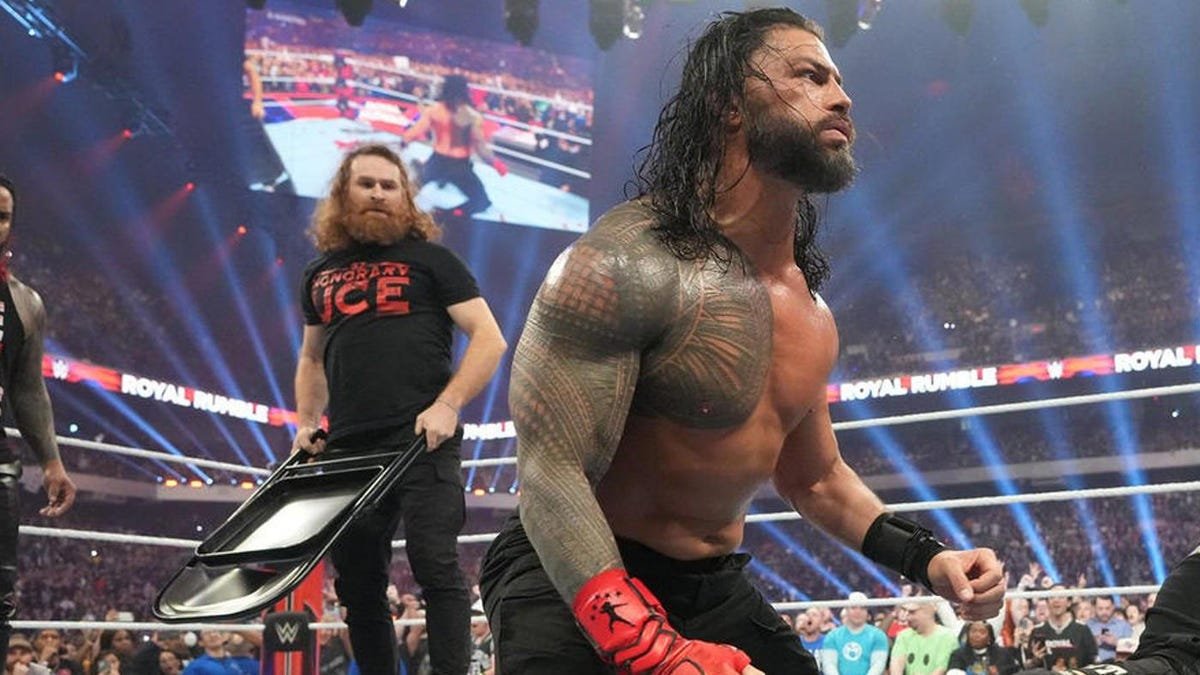 Roman Reigns defeated Sami Zayn at WWE Elimination Chamber, resulting in Kevin Owens returning after the match.
The Bell Center was just as hostile towards Roman Reigns as it was vocal towards Sami Zayn. Vocals from "Roman sucks" "Sami!" "Ole" and "[Expletive] you, Roman" dominated this match before Zayn and Reigns even touched.
The climactic moments saw Jey Uso fail to come to a decision on his loyalty. Zayn accidentally threw Jey before Jey Uso could decide where to swing his steel chair, resulting in Zayn's death.
Sami Zayn's meteoric rise as The Bloodline's honorary Fish Out of Water Uce led to a showdown against Reigns in Montreal, Zayn's home country. Zayn's undeniable popularity made WWE's Undisputed Universal Championship match one of the few world title matches for Roman Reigns that was rightfully in doubt. Although a potential victory for Zayn is scripted as the biggest upset in WWE history, Sami Zayn has emerged as enough of a draw in recent months to make his Cinderella storyline a real possibility.
Zayn drew ubiquitous comparisons to Daniel Bryan and the Yes Movement, which saw a grassroots movement upend the applecart of WrestleMania 30. Despite WWE's best-laid plans, fans would not be turned away as an uproar drove Daniel Bryan to be shod in the main WrestleMania 30. event. WWE fought tooth and nail against its own fan base and lost.
Almost a decade later, at WrestleMania 39, the Zayn-Bryan comparisons held up, but the situation was entirely different. With the goodwill restored between WWE and its fan base during the Triple H era, there have been no instances of fans hijacking WWE storylines. Instead of Zayn being a superior pick to the far less popular options in a 2014 Batista and a 2014 Randy Orton, Zayn was one of many viable fan favorites who could headline WrestleMania.
Sami, Roman and Cody Rhodes' road to WrestleMania
Cody Rhodes, who won the Royal Rumble, was one of the biggest prints since returning from injury, causing massive numbers during his quarters on Raw while drawing record number of gates on the road. Fans not only accepted Cody Rhodes as a top star, they embraced him, even when WWE dared to put the pair in the same ring together last Monday on Raw.
Thanks to the strength of The Bloodline's story, it was Jey Uso, not Zayn, who got the highest quarter-hour rating. Due to speculation about whether or not Jey would join Jimmy in defending the SmackDown Tag Team Championships against Ricochet and Braun Strowman, this segment drew the most viewership with 2.721 million viewers. With The Bloodline on all cylinders, an otherwise popular Sami Zayn is closer to a system quarterback. Zayn headlining WrestleMania would be similar to when Jared Goff started a Super Bowl.
Rhodes was positioned as the alpha challenger, giving an unconfident Zayn a spirited pep talk ahead of the biggest game of Zayn's career. It wasn't WWE fighting with its fans, it was quite the opposite. WWE, Sami Zayn and Cody Rhodes were working with his fanbase to tell a story. It was like WrestleMania 30 with two Daniel Bryans.
The cries for Zayn to uproot WWE plans and the WrestleMania title were mostly media driven, and many Zayn truthers were suspiciously tied to AEW, whether it was Chris Jericho, Dax Harwood, or consummate AEW cheerleader Dave Meltzer. And why not? Sami Zayn as an unlikely main event means disruption to WWE's booking and its fan base. With icy AEW in the midst of a wave of WWE, WWE in-house fighting is an AEW dream come true.
Doing everything he can to push Sami Zayn's narrative, Meltzer reported that plans have changed for Zayn this season of WrestleMania. According to Wrestling observation bulletin (h/t Fight Inc.), the original plans — which Meltzer says have since changed — called for Jey Uso to betray Zayn, leading to a tag team showdown pitting Zayn and Owens against The Usos at WrestleMania. Although the Wrestling observation bulletin is a leading source of information in the professional wrestling industry (a very low bar), it is far from infallible. THE Observer was recently exposed through hoaxes while attempting to report on DragonGate.
"Over the past week, I've been alerted that a lot of Dragon Gate information I've received and used over the past year came from one or two people doing a hoax," Meltzer said.
"During this period, I received correspondence from someone who allegedly worked in the company office and one of the top wrestlers in the company."
"I have been informed that [DragonGate wrestler Kaito Ishida] doesn't actually know English, and I should have checked with people, but doing so would violate my letting people know the sources.
"But the information about Nosawa [Rongai] and the company reservation was not true and I apologize for that."
WWE has rebuilt trust with its audience during the Triple H era and seems empowered to move forward with any plans it has for WrestleMania, regardless of the headlines. Whether it's Roman Reigns' superpowered tribal leader, Sami Zayn's lovable underdog, or Cody Rhodes' charismatic top babyface and grandson of a plumber, WWE has built several three-dimensional personas in which fans are deeply invested.
In the end, WWE continued to tell its story, with Owens and Zayn parting ways over a likely feud with The Usos while Reigns headed for a collision with Cody Rhodes.