Introduction
I will be looking at three German premium auto manufacturers Mercedes (OTCPK:MBGAF) (OTCPK:MBGYY), BMW (OTCPK:BAMXF) (OTCPK:BMWYY), and Audi. My original focus was Mercedes, but I decided to take a wider look at the other two manufacturers for comparison. Obviously, strategy and execution of the EV transformation are front and center in such a comparison, so I also included Tesla (TSLA) to have that additional context.
Some notes on methodology first: Audi is a Volkswagen (OTCPK:VWAGY) (OTCPK:VWAPY) (OTCPK:VLKAF) (OTC:VLKPF) brand and not listed independently. But Audi publishes a decent set of numbers and other information separately from the parent company, so in many aspects a comparison to Mercedes and BMW is possible. Where valuation is concerned, I went back to Volkswagen. I used the preferred shares as a reference point for valuation calculations and did the same for BMW. Volkswagen and BMW have a dual share structure with ordinary shares and preferred shares. In both cases, the preferred shares have no voting rights and a somewhat higher dividend. (The reasons for the dual shareholder structure are also the same for both companies: to give the founder families – Porsche/Piëch in case of Volkswagen and the Quandt family for BMW – control although they lack the necessary capital).
I am not including Porsche AG (OTCPK:POAHY) on purpose as I see Porsche as a luxury car manufacturer with different economics from a premium brand. I think Porsche is more like Ferrari (RACE), while I consider Tesla a premium manufacturer, at least for now. Porsche's P/E ratio, while elevated compared to Mercedes or BMW, is significantly below Tesla, but the oddity is on the Tesla side, in my view. Note – Volkswagen still owns 75% of Porsche AG, so this is somewhat complicated. You can find more about the corporate structure of Porsche in my Seeking Alpha article Buy Porsche Holding Instead Of Porsche AG Directly.
So, let's get started.
Sales
I think it is fair to say that from a unit sales perspective, 2022 was not a great year for the German manufacturers. Mercedes held unit sales YoY stable in 2022 at 2.04mn (-1% YoY). BMW decreased by 5.1% to 2.1mn, and Audi decreased by 3.9% to 1.61mn. Note – BMW numbers do not include Mini and Rolls-Royce (OTCPK:RYCEY) (OTCPK:RYCEF), which are also part of the BMW Group. Including those two brands, unit sales were 2.4mn.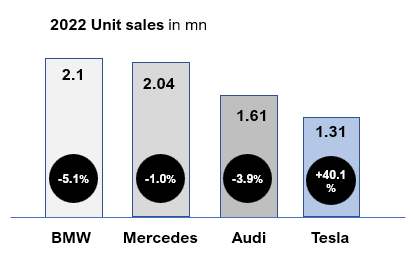 It is notable that all three German manufacturers had very strong Q4 quarters. Mercedes increased sales by 15% YoY in Q4, BMW by 11%, and Audi even managed an increase of 26%. Still, Audi risks to be overtaken by Tesla regarding unit sales in 2023. Tesla wants to produce around 1.8 million vehicles in 2023. It would be the first time that Tesla has outperformed a German premium manufacturer – and that with just four models in its portfolio.
EV sales in 2022
If we only look at electric vehicle sales, things look different anyway. Tesla is in its own category here with 10x the EV sales. It obviously only sells EVs, so the number is the same as in the previous chart. The transformation from combustion engines to e-mobility takes time and obviously starting from scratch can be a big benefit.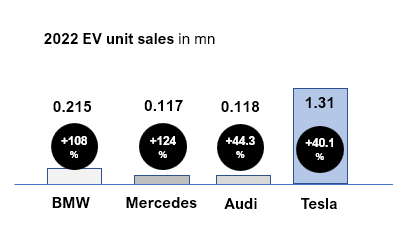 Mercedes EV sales increased significantly to 117,800, up 124% YoY, but from a small base. PHEVs and BEVs together came to 319,200 which is 19% of total sales.
While it took some time, Mercedes has made the transformation to electric cars a key pillar of its corporate strategy, which it published in October 2020: It doubled down on the electrification strategy in an update in July 2021:
By 2022, Mercedes-Benz will have battery electric vehicles (BEV) in all segments the company serves. From 2025 onwards, all newly launched vehicle architectures will be electric-only, and customers will be able to choose an all-electric alternative for every model the company makes. Mercedes-Benz intends to manage this accelerated transformation while sticking to its profitability targets.
To me, it looks like this is working so far. As we will see later, 2022 revenue and profit were very strong, and Mercedes has an exciting product range with a very good reception (like this one – The 2023 Mercedes-Benz EQE is EV perfection in a humdrum shell).
Mercedes plans to go all-electric by the end of the decade (adding the caveat "wherever market conditions allow"). Even assuming stable sales, this requires a CAGR of 42.8% over 8 years – not an easy but a doable task, in my view.
BMW's electrification strategy is more cautious
While BMW's EV sales are keeping up with Mercedes, the strategy is more cautious and wants to give freedom of choice. Just compare the headline with the Mercedes statement:
BMW Group is consistently expanding its range of electric vehicles. As early as 2023, the Group will offer at least one fully electric model in virtually all key segments. From 2025 onwards, the BMW Group plans to increase its delivery share of all-electric vehicles to 50% with the Neue Klasse, while also further reducing its carbon footprint over the entire life cycle. In doing so, it will utilize its experience as a pioneer of e-mobility.
While Mercedes wants to be all-electric by the end of the decade, BMW plans the share of e-vehicles to be only at 50% of deliveries in 2030.
I am completely with Mercedes here. In my view, the transition to EVs will follow a gradually-and-then-suddenly pattern, and manufacturers will need to be fast to avoid being taken over by the likes of Tesla and Chinese EV manufacturers. I am conscious though not everybody agrees with the Mercedes strategy. In a recent article in the German newspaper Stuttgarter Nachrichten (the Mercedes headquarter in Germany is in Stuttgart), Willi Diez from the German Institut für Automobilwirtschaft criticized the strategy as one-sided, high-risk, and too focused on the EV transformation and the premium/luxury segment. Another criticism is the dependency on China as a market.
Källenius [the Mercedes CEO] focuses the company very strongly on a single drive technology, on a comparatively small group of customers, on one sales market. If this one-sided strategy works, the company can be very successful. However, if the underlying assumptions prove to be incorrect, there are no options for action. Then it becomes dangerous. Källenius is therefore clearly pursuing a high-risk strategy. (Translated from German using Google Translate)
Audi is falling behind in its EV transformation
Standing out, but not in a good way again, is Audi here. Even from a much smaller base, Audi managed to grow EV sales in 2022 just a little more than Tesla, and much less than Mercedes and BMW.
Audi has come up with ambitious design concepts lately to preview its future EV line-up. But the automotive vision faces a bleak reality – Audi will have to compete with an outdated model range against the upgraded competition in 2023. Audi is not at fault here, but this is a collateral damage from the software issues and delays in the larger Volkswagen Group. I have written a Seeking Alpha article on this problem last December. Also, the German newspaper Handelsblatt recently published a detailed analysis on the consequences the software malaise has for Audi and its product range. A short summary: Audi will not have new EV models before 2024 as the required software will not be ready earlier.
Trucks or no trucks?
As a part of the aptly named Focus project, Mercedes spun off its truck business into Daimler Truck Holding AG (OTCPK:DTRUY) (OTCPK:DTGHF) in October 2021. Mercedes still holds a 35% stake in the company.
The Focus project also leads to major changes in the model portfolio. Many well-known series will be discontinued over the coming years. These include, for example, the A-Class and B-Class. What is less talked about though is, that at the time, the company is developing entirely new vehicle types, such as a mix of SUVs and sedans specifically for Chinese customers.
As with many spin-offs, the core reason for the Daimler Truck IPO was the goal to achieve structurally higher profitability. Mercedes profit margin is around 16%, whereas Daimler Truck is significantly lower at only 5%.
Tesla is doing the opposite of Mercedes here and is going into the Truck business with its soon-to-be-released Semi Truck. This move from Tesla puzzles me to some extent. It cannot have a meaningful effect on the bottom line over years to come, if ever.
While its current Master Plan has the explicit goal to "expand the electric vehicle product line to address all major segments", only two models (3 and Y) make up the majority of sales for Tesla. From a sales perspective, Tesla is more a 2-model than a 4-model company, and the two are body variants rather than distinct models. Tesla's large models, the Model S and Model X, have atrophied into niche cars. Cybertruck should see the first deliveries in H2 2023. Given the past delays, I would not bet on it. Tesla also lacks a lower-cost EV. To me, it looks like Tesla is moving from a product innovator to a production machine.
There is a historic precedent where a car manufacturer grew significantly, despite a very reduced number of models and was renowned for its manufacturing efficiency. We must go back through quite some time to Ford (F) between 1914s and the 1920s.
In the following years, though, Ford was crushed by General Motors (GM). Along the way, GM invented key tenets that auto manufacturers still follow today: the annual model line-up and a laddered model portfolio with different cars for different purposes and income brackets. (The memoirs of Alfred P. Sloan, My Years with General Motors, are a fascinating read for those who want to know more about it. Sloan was President of GM from 1923 to 1943 and Chairman of the Board from 1937 to 1956).
It is maybe a coincidence that Tesla has deviated from the general practice of having annual model refreshments. The next Tesla master will come out on March 1, so maybe we will be wiser after that what path Tesla will take.
Revenue and profit
Comparing revenue and profit numbers shows some interesting facts. One, all three German manufacturers managed to increase revenue and profit, despite stable or declining unit sales. Obviously, this does not mean that they can keep doing it in 2023.
The other is that – except for Mercedes – Tesla's often-mentioned superior profitability does not really show up here in the numbers – at least if you compare revenue to profit. I think this is a simple but valid way of looking at it. Tesla is also receiving a multitude of direct and indirect government subsidies. Carbon credit sales alone reached a record of USD1.78bn in 2022. If those subsidies are considered, Tesla looks less profitable than the German competitors (taking away the carbon credit reduces the profit margin already by 2%). Additionally, for the sake of comparison, I converted numbers from the three German manufacturers into USD using the EUR/USD rate from the end of 2021 and 2022, respectively. This approach reduces their numbers by around 5% YoY due to the depreciation of the Euro over 2022.
The relatively low Mercedes ratio of profit to revenue surprised and concerned me. So, I dug somewhat into this.
One difference I found is the amount of R&D expenses. Mercedes has far higher research and development expenses than Tesla.
Mercedes's financials division saw an EBIT decrease in 2022 due to increased interest rates, but I assume this will be the case for BMW and Audi too, once we have the detailed numbers. Maybe I am missing something else here, and I would be glad to get that information through the comments section.
Mercedes' R&D expenses are significantly above Tesla's
Both Mercedes and Tesla have only preliminary numbers out for 2022, and they are not always straightforward to compare. One key difference I saw was R&D expenses.
Tesla spent only USD3bn on research and development in 2022 vs. over 9bn for Mercedes (again, I used the EUR/USD rate per 31/12/2022 for comparing the numbers). It is hard for me to say whether Tesla is getting more bang for its R&D expense (and Mercedes is overspending) or Tesla is not investing enough in R&D. Given the challenges with the reduced model line-up we covered earlier and the in-house development of its FSD, the R&D spend looks low to me. Tesla also needs to do R&D for the Trucks business, while Mercedes has spun this off completely.
BMW had R&D expenses of 6.3bn euro for 2021. Full 2022 numbers have not been released yet, but the Q1-Q3 number was 4.89bn euro. So, significantly higher than Tesla but below Mercedes. Audi had R&D expenses of 3.29bn euro in Q1-Q3, also surpassing Tesla significantly.
Profit by car sold
Tesla is often lauded for having a significantly higher profit for each car they sell, so I wanted to investigate that too. Out of curiosity, I also calculated the Tesla profit per car without the carbon credits. I think sooner or later those credits will stop. Tesla holds up very well against the German premium brands. If Tesla can keep this level of profitability per car and still grow 30-50 percent YoY, it certainly deserves a higher valuation, so those numbers are something to watch going forward.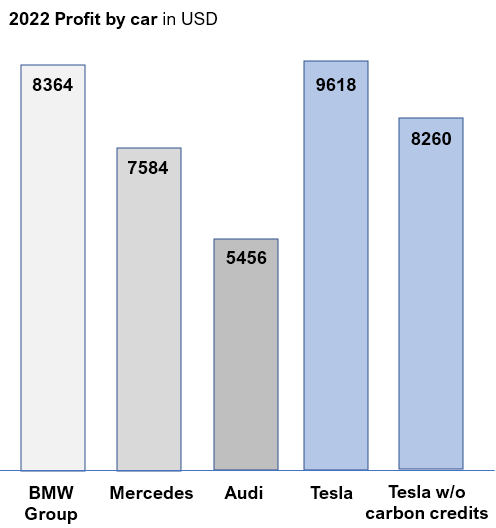 Software and autonomous driving
Elon Musk tends to say that Tesla is not just an auto manufacturer but a technology company. I agree to some extent and think Tesla deserves credit for significantly raising the bar on technology in cars, like making over-the-air updates a standard feature in 2012. Musk usually refers to full self-driving to back up his claim.
A recent Seeking Alpha article from Yarrow Bouchard is critical of FSD (calling it a mess) but also thinks it will improve soon as hand-coded C++ code is being gradually replaced by neural networks. I am not so sure. From a software engineering perspective, I have to say that the Tesla engineers receive my complete admiration if they can make this work. The idea of software engineers tweaking a probably huge C++ codebase, that must go back 10+ years, to make a car self-drive, makes me slightly uncomfortable. If I had to bet on it, I would say this will not work. I am also not sure that I want to be in that car. But that is just me, not an expert on that kind of thing, and Elon Musk is rich and I am not. There is another recent Seeking Alpha article from Georgy Shishkov that I recommend. He compares FSD to the Mercedes-Benz Drive Pilot product and his conclusion is that the Mercedes product is superior.
For good or bad, all three German manufacturers are more cautious (if you want to put a positive spin on it: go for slow and steady) approach than Tesla on autonomous driving. Though in the case of Volkswagen, not by choice. The new CEO Blume cancelled the so-called Trinity project which, among other things, was supposed to develop the necessary software for L4 autonomous driving, and also shut down the autonomous driving company Argo AI (a JV it ran together with the Ford Motor Company).
They are all now focusing on developing good L2 and L3 experiences that deliver value now. Mercedes had a big win recently, becoming the first auto company to receive a Certification for a SAE Level 3 system in U.S. (Note – On February 22, Mercedes will present an update on their software strategy.)
Valuation
Not surprisingly, differences are drastic here. To start: Tesla's market capitalisation is almost 3x that of BMW, Mercedes, and Volkswagen combined, while its profit is still less than one-third of their profits. As Audi is not publicly listed, I used the shares of Volkswagen Group here for comparison.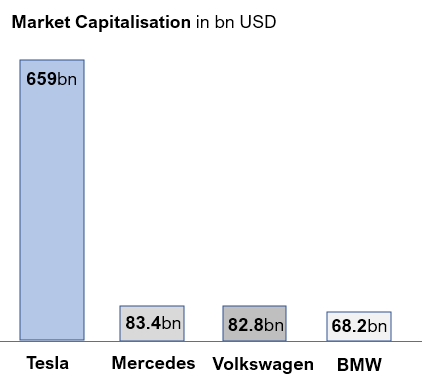 But it is not just that Tesla looks overvalued, the German manufacturers look undervalued too. The German newspaper Handelsblatt noted that with a net profit of around 45 billion euros in 2022, the three German car manufacturers account for a third of the total profit of all 40 DAX titles, but they have less than 12 percent of the market value of all DAX companies.
Mercedes is trading at a P/E of 5.8 based on 2022 earnings and has a dividend yield of 7%. Additionally, Mercedes will buy back shares for 4bn euro starting in March 2023, so returning 12% to shareholders.
BMW and Volkswagen have not announced 2022 earnings yet. The expected P/E ratio for BMW is 6.5 and for Volkswagen 4.7. Dividend yields are expected to be around 9% for Volkswagen and 8% for BMW.
Tesla's P/E ratio is around 57. It does not pay a dividend nor are share buybacks planned. Musk has been talking about share buybacks in the past, but nothing has been announced yet.
Those are very different numbers. Obviously, the market is attributing a lot of risk to the German manufacturers and a lot of potential to Tesla. To me, it looks like this is overblown in both directions.
Brand value versus market capitalisation
Barron's had another interesting way of looking at the valuations. The newspaper featured an article recently where they compared brand value to market capitalisation. I found this as an interesting approach. On an annual basis, Brand Finance ranks the top 500 global brands by value. In the 2023 ranking, Tesla made a big jump from number 28 to 9, with a brand value of 66.207bn US dollars. Mercedes is at number 16 (down one rank from 15) with a brand value of 58.8bn.
While this is quite similar, Barron's noted the big difference in the ratio between brand value and market capitalisation between Tesla and other auto manufacturers, especially Mercedes where the calculated brand value is 68% of the market cap.
Having no marketing background, I am cautious to conclude too much from this. Brand Finance says the methodology is objective and based on the Royalty Relief methodology.
Whatever you think of it, I take it at least as an indication that something is not completely right with the valuation of Tesla or the German manufacturers, or on both sides. Since Tesla's market cap can fluctuate quite a lot over a period of one or two months, I recalculated the numbers. I used Volkswagen instead of Audi as we have no market cap for Audi (Audi is in the ranking at number 142, down from 140):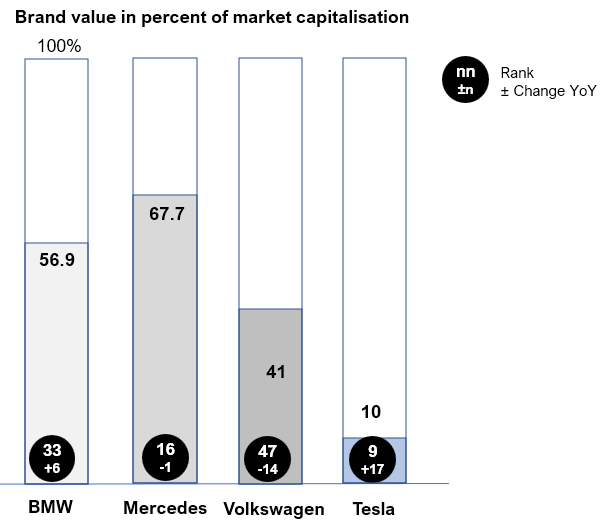 Conclusion
I consider all three German car manufacturers a Buy, provided an investor has a long-term view. BMW and Mercedes are quality stocks, in my opinion, with a very low valuation. Shares have gone up though over the last months – in line with the German market – and the entry point might not be ideal now. I think BMW and Mercedes will thrive in the EV world as they have done previously. Personally, I am long Mercedes as I do like the focused strategy and the execution of the EV transformation.
I consider Volkswagen/Audi a turnaround story (see my article on Volkswagen and the group's software strategy/disaster for a more detailed analysis). There are several negatives here, the complicated corporate structure being one of them. But I do think the new CEO is moving Volkswagen in the right direction and the valuation is very low.
I do appreciate the innovation that Tesla has brought to the industry. We often keep doing the wrong things, even if we know they are wrong, in the absence of an alternative. Tesla has established an alternative to the polluting internal combustion engine, and the company deserves a lot of credit for that alone.
Because of its high valuation and volatility, the stock is not the right for me though. Other investors might think differently, and I am fine with potentially missing out.
Editor's Note: This article discusses one or more securities that do not trade on a major U.S. exchange. Please be aware of the risks associated with these stocks.