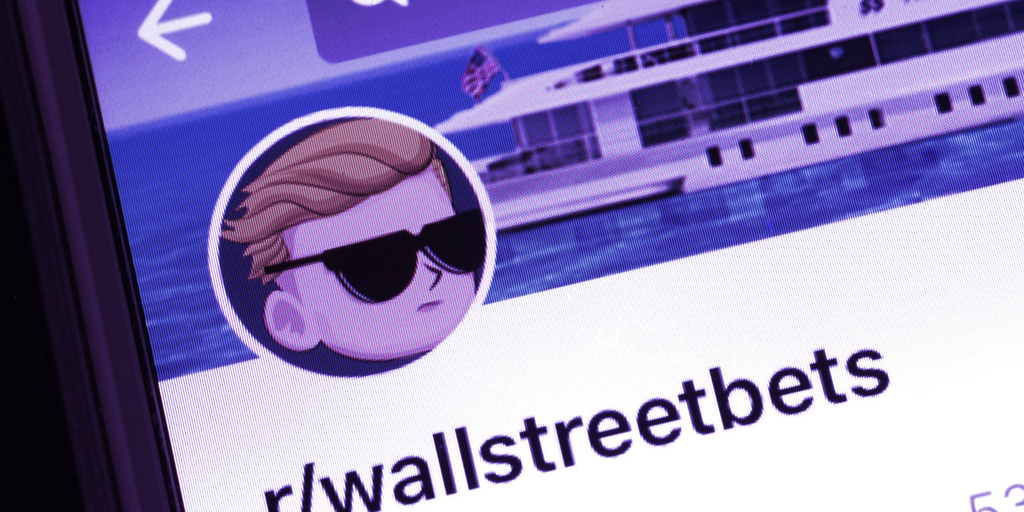 WallStreetBets (WSB) founder Jaime Rogozinski filed a lawsuit against Reddit last week, claiming the platform wrongly removed him as a moderator in 2020 and violated his right to trademark the name from the community.
Founded in 2012, WSB has earned a reputation on Reddit as a go-to place for people who witness bold stock trades. Community members shared images of significant business losses and gains with a mutually stoic sense of pride. Financial literacy was not at the forefront of WSB's daily content, but rather a "YOLO" or "you only live once" mentality to trading stocks.
The subreddit surged in popularity amid the COVID lockdowns as people spent more time at home and, financially supported by pandemic relief programs, immersed themselves in online stock trading, using often commission-free platforms like Robinhood. It was the epicenter of the so-called meme stocks frenzy, which saw GameStop and AMC soar amid a historic short squeeze.
The subreddit hasn't always been kind to cryptocurrency posts, limiting crypto discussions to one thread, but its maintainers have launched a crypto-specific subreddit in the fall of 2021. Reddit has also responded to the WSB community by posting custom avatars, like the one with "diamond hands", a tie adorned with a rocket, and jock the yellow hair of the logo.
But long before throngs of WSB-goers piled into meme stocks and established figures like Keith Gill as icons in a battle to pin Wall Street on the losing side of deals, Rogozinski was stripped of his community moderator functions by Reddit. The move constituted a "breach of contract [that] was intentional and voluntary", according to The complaint filed by Rogozinski.
Reddit's rationale for ousting Rogozinski as moderator centered on claims that the founder violated company policy by "attempting to monetize a community." Rogozinski had set up an esports trading contest and promoted a book on WSB titled "WallStreetBets: How Boomers Made the World's Biggest Casino for Millennials."
"Reddit's justification was a pretense: people use Reddit to market and sell everything from investment advice to bodily fluids," Rogozinski's complaint states. "On Reddit, just about anyone, including aspiring pornographers and scammers, can find a place, everyone except Mr. Rogozinski."
Of the other seven claims for which the founder is seeking damages, which total at least $1 million, according to Reuters—Rogozinski also claimed that Reddit infringed on a federally registered trademark.
At the end of March 2020, Rogozinski's complaint indicates that he filed a request with the United States Patent and Trademark Office (USPTO) to guarantee the use of "WallStreetBets" for commercial purposes. Reddit would later file four trademark applications to register "WallStreetBets".
The lawsuit hopes to establish that Rogozinski is the owner of the WSB trademark and seeks an order reinstating him in his former role as a subreddit moderator. Additionally, Rogozinski is seeking a court order barring Reddit from "any use" of the mark "unless and until 'the company reinstates' him as the longest-serving moderator of the r/WallStreetBets subreddit."
Reddit pushed back against Rogozinski's claims in his lawsuit. "This is a completely frivolous lawsuit with no basis in fact," a Reddit spokesperson said. Decrypt by email. "This lawsuit is another transparent attempt to get rich."
The company noted that Rogozinski was removed from his position long before GameStop and AMC dominated the subreddit's chatter – and each of the GameStop and AMC-loving communities branched out to other subreddits like r/ amcstock or r/superstonk.
"It is telling that he is filing this complaint three years after he was banned by r/WallStreetBets and long after the community grew in popularity without his involvement," the Reddit spokesperson said. "We will respond directly in court and continue to protect the best interests of communities and moderators on our platform."
Stay up to date with crypto news, get daily updates in your inbox.