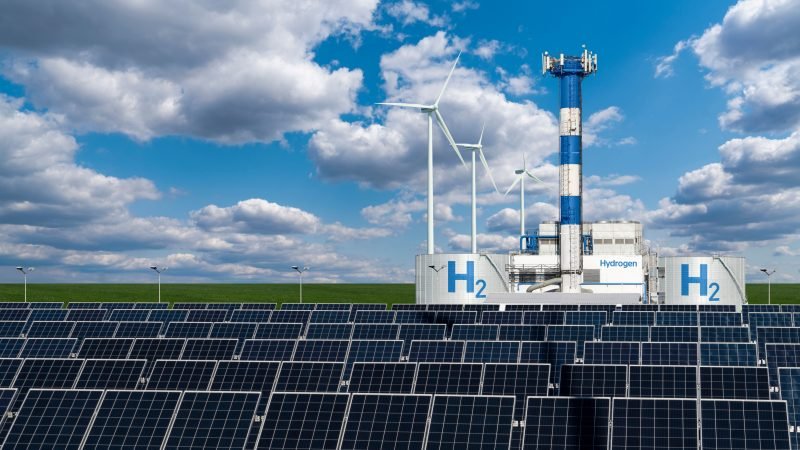 The European Union's oversized plans for renewable hydrogen are unrealistic and pose a risk to public finances and the bloc's decarbonization efforts, write Luke Haywood and Cosimo Tansini.
Luke Haywood is Policy Officer for Climate and Cosimo Tansini is Policy Officer for Renewable Energy at the European Environment Bureau (EEB).
Renewable energy sources are booming. Solar and wind power have replaced gas and coal to become the first spring of electricity production in the EU for the first time last year.
However, the fossil gas and nuclear lobbies have continued to carve out plans maintain our savings tied to their businesses for decades to come. Rather than outright defending gas and nuclear, they have discovered a new strategy that fits into the net zero dynamic: advocating for massive "green" hydrogen plans.
Renewable (or "green") hydrogen is produced by electrolysis from renewable electricity. While debates about the sustainability of hydrogen largely focus on its color, the dangers go beyond that.
Even though large-scale green hydrogen production requires massive investment and risks driving significant amounts of renewable electricity away from solutions that could decarbonize faster and cheaper. Slowing this transition will give extra life to fossil fuels and nuclear energy.
The oversized plans of Europe
EU hydrogen targets – 20 million tonnes including domestic production and imports by 2030 – are more than double what is optimal for a transition to a 100% based energy system on renewable energies, according to the compatible Paris agreement (PAC). energy model developed by the European Environmental Bureau and CAN Europe.
The trajectory of technology adoption required to achieve these goals exceeds the historic growth of not only wind and solar power: in fact, virtually no other technology has ever experienced growing so fast.
Although the ability of the hydrogen industry to generate the required growth is questionable, alternatives are ready. Direct electrification, coupled with increased energy efficiency in buildings, industrial processes and transportation modes, can decarbonize our energy systems without risking reliance on unproven hydrogen generation capabilities.
The financial pressure
The necessary increase in electrolysis capacity will require huge private and public investment and risks straining EU and national financial resources.
BloombergNEF estimates investment costs of €24-42 billion by 2030 to meet EU national production targets. Even the lower end of this estimate exceeds the total grant amount available under the recent RePowerEU package, intended to support the deployment of renewable energy, energy efficiency, etc. (20 billion euros).
Increasing the share of hydrogen in the gas network to 20% would lead to price increases of up to one third for end consumers. Using hydrogen as opposed to more efficient direct electrification means higher bills.
THE latest evidence suggests that the cost disadvantage of hydrogen compared to fossil gas persists even if carbon prices increase up to four times current levels and despite projected reductions in hydrogen costs. Will EU governments and citizens accept the associated further increases in energy prices?
Battle for renewable energies
Producing large volumes of green hydrogen will require a lot of new solar and wind generation – and much more than with a strategy focused on direct electrification and energy efficiency.
This is problematic: the EU's own projections for new renewable capacity show that renewables remain insufficient completely decarbonize the electricity sector, cover the new emerging demand for electricity and produce the desired volumes of renewable hydrogen by 2030.
More renewable energy dedicated to the production of hydrogen will also tend to increase the prices of other renewable production, given the strong competition for the resources to produce solar panels and wind turbines: human resources, land and materials. It is extremely difficult to ensure that hydrogen production does not make it more difficult for renewables to decarbonize our energy system more broadly.
Hydrogen production will only bring climate benefits if it is strictly based on additional renewable electricity. How to make sure that is currently the subject of animated discussions at EU level. Industry groups and their political allies are pushing European policymakers to relax the rules on renewable hydrogen.
It makes sense that the industry is asking for less stringent requirements: with really stringent criteria in place, producing large volumes of renewable hydrogen will remain a challenge over the next decade.
A sustainable strategy for hydrogen therefore depends both on how it is made and on the scale at which it is produced.
The path to follow
The size of future hydrogen production is critical. Europe should not bet its path to decarbonisation on a technology that has not proven its potential for large-scale sustainable production.
Heavily subsidizing hydrogen in the name of industrial competitiveness will result in much-needed financial resources being diverted from other crucial investments to deliver renewable energy, energy efficiency and energy security.
In turn, targeted investments towards more limited production goals and uses will allow us to make the most of energy and financial resources.
In addition to the downward revision of production targets, it is equally crucial to make credible long-term commitments on the strictest additionality requirements for renewable hydrogen.
Without additionality, the production of hydrogen cannibalize renewables intended to decarbonize other parts of the economy, hinder climate change mitigation and jeopardize public support for the transition.