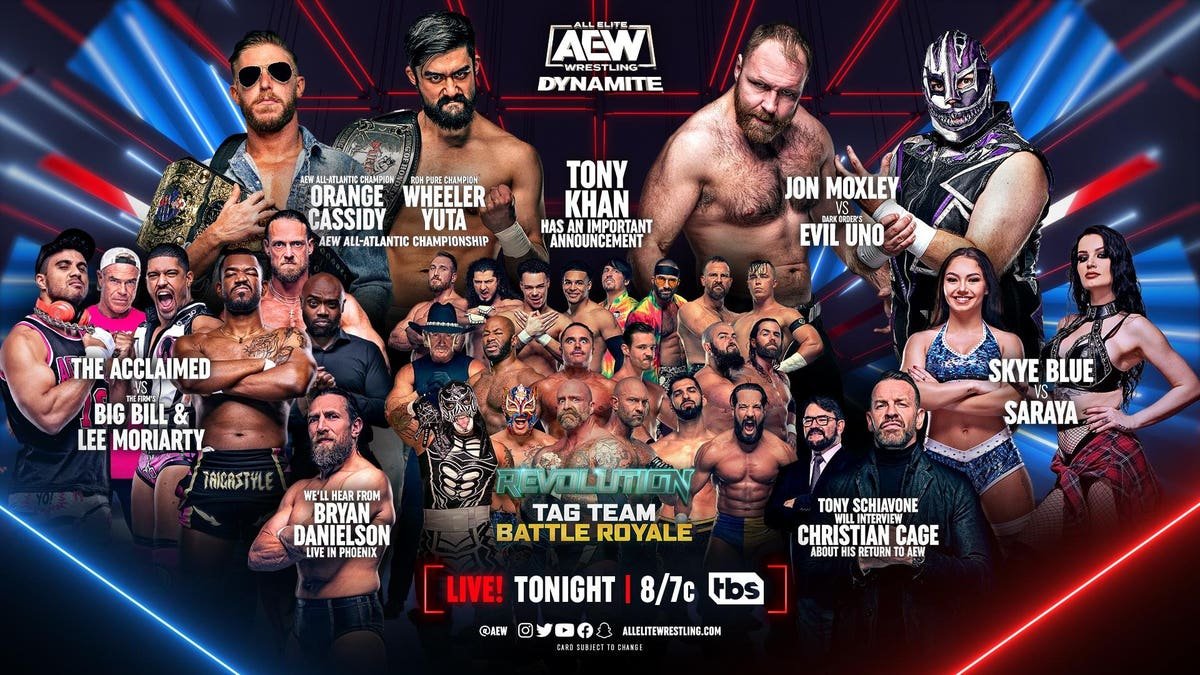 AEW President Tony Khan made his big announcement as Adam Cole announced a new series: AEW All Access.
Adam Cole made the announcement, stating "in March, next month, there will be a weekly hour-long television series, immediately after Dynamite, which will be called AEW All Access."
Cole, who also announced he would debut that day, described it as a show showcasing AEW like you've never seen it before. All Access feels like a must-have reality show for AEW to better develop its many one-dimensional characters.
AEW Dynamite has announced Wheeler Yuta vs. Orange Cassidy, Jon Moxley vs. Evil Uno, Skye Blue vs. Saraya, The Acclaimed vs. Big Bill and Lee Moriarty, and live appearances from Bryan Danielson and Christian Cage. Dynamite has also announced a Revolution Battle Royale.
Last week's broadcast of AEW Dynamite, featuring Mark Briscoe's AEW debut, drew 1.003 million viewers.
AEW Dynamite Results | February 22, 2023
Orange Cassidy beats. Wheeler Yuta | AEW All Atlantic Championship
The def. acclaimed. Big Bill and Lee Moriarty
Saraya def. Sky blue
Jeff Jarrett and Jay Lethal win the Revolution Tag Team Battle Royale
AEW Dynamite Rankings
February 15, 2023 | 824,000
February 8, 2023 | 899,000
February 1, 2023 | 901,000
January 25, 2023 | 1.003 million
January 18, 2023 | 969,000
AEW Dynamite Venue: Footprint Center (Phoenix, AZ.)
AEW Dynamite tickets distributed: 6,986
AEW Dynamite tickets available: 666
Tony Khan complains about journalism | PTB
AEW Dynamite Winners and Ratings
Orange Cassidy won. Wheeler Yuta
That crowd was amazing from the start, which made a great game just get even bigger.
This match embodied the history of AEW for the past few weeks. Great wrestling matches that no one will remember in a few weeks due to the lack of a powerful storyline.
Claudio Castagnoli, playing the role of an abusive pro wrestling dad, slapped Wheeler Yuta in the middle of the match. Yuta struggled like even more of a heel from there.
After Yuta's loss, he refused a hug from Cassidy, solidifying a heel turn for the BCC. It's good to see AEW finally realize that making pro wrestling your entire identity is a heel thing.
Chris Jericho vs. Ricky Starks Official for Revolution
Not only did Chris Jericho accept Ricky Starks' challenge, but he presented Peter Avalon with a Judas effect – while wearing a spiked jacket – beforehand.
"You can't have a revolution without Chris Jericho" is an apt description of why AEW was able to have a business.
Starks admitted that he legitimately believed Jericho could beat Starks one-on-one. Somehow, this prompted Jericho to sign a contract where the two would face off without JAS by his side, but he didn't have a pen. Fortunately, Starks did.
The biggest pop of this segment came when WWE channeled their former WWE persona and clicked a pen.
The def. acclaimed. Big Bill and Lee Moriarty
Max Caster's bars were once again on point as he referenced Big Bill's sex life using his old catchphrase 'SAWFT'.
The first singing contestant of the night happened when fans chanted "scissors-shingles." Fans jumped huge when Max Caster and Anthony Bowens made scissors.
Christian Destroys Jungle Boy
Jungle Boy attacked Christian from behind, as a babyface, only for the heel to come back and win the fight. Christian got the upper hand when Jungle Boy Jack Perry balked at delivering a con-flesh-t0.
Christian's beating on Jungle Boy received massive heat and Jungle Boy even bled. Unfortunately for Jungle Boy, fans got over it quickly when they saw Aubrey Edwards rush onto the stage.
Saraya def. Sky blue
Skye Blue had some tough times to start this game.
Saraya won this match via submission, and the duo was interrupted by Baker and Hayter. Skye Blue and Toni Storm should be much bigger stars in AEW, especially Saraya. Unfortunately, they are hampered by the intermediate narration.
Ruby Soho teased that she wants a shot at the Women's World Title, which makes me think Soho will eventually join Saraya and Storm after losing.
MJF takes on Bryan Danielson
MJF received a massive backlash as it became clear that these people don't care about the story that AEW has been trying to tell over the past few weeks.
MJF finally caught the heel heat for a terrific heel promo. Things escalated when MJF started mentioning Bryan's kids.
The fight at the end was very well done as it looked very realistic how wild and intense it was.
AEW Revolution Tag Team Battle Royale
Danhausen was kicked out and fans booed loudly, even though Danhausen wasn't in the battle royale.
There was one elimination after another, and the crowd was frantic throughout. In front of any other crowd, it would have been paint-by-numbers, but Phoenix really improved this battle royale.
Jarrett and Lethal received so much heat for winning this battle royale. These are perhaps the best heels around.
Jon Moxley beats. evil uno
AEW has done a good job of elevating Evil Uno to this position to help tell the tale between hangman Adam Page and Jon Moxley.
Evil Uno opened this match like a house on fire and really got the crowd on their side.
There was a post-game brawl that brought hangman Adam Page out, which I can only assume is his new theme music. Not only was it a massive downgrade from its original music, but it was possibly the worst theme music on the list.