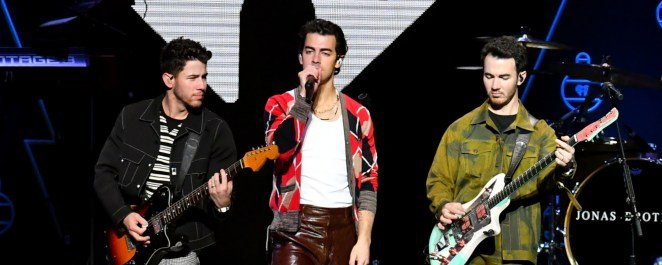 The Jonas Brothers released new single "Wings" on Thursday (February 23) as a first taste of their upcoming album.
Videos of an American songwriter
Videos of an American songwriter
The short track takes a more laid-back approach than their previous work, but not at the expense of an earworm chorus. Their three-part harmonies shine in the refrain: You gave me a reason, you made me believe / You make me say / You are the wings I need to fly away / You are the wings I need to fly away / This was you / It was you, it was you from the very beginning.
Check out the track below.
"Wings" will appear on the Jo Bros sixth studio album – simply titled The Scrapbook – available this spring. The LP follows their comeback record in 2019 Happiness begins.
The trio have ended their long-term creative partnership with producer Ryan Tedder on this project in favor of a collaboration with singer/songwriter Jon Bellion.
The band previously announced that the album will lean into a '70s vibe, which is very well represented on "Wings." The Bee Gees were a main source of inspiration for the band.
"They were a huge influence in our lives, growing up and listening to them with our dad," Kevin said recently in an interview with Variety. "And obviously, as we grew up being three brothers in a band, we definitely understood the similarities."
The Scrapbook was previously scheduled to arrive on May 5, but the group announcement a postponement earlier this week. The disc will now be released on May 12.
"Sometimes the best projects take a little longer than expected," the brothers wrote in the post's caption. "We are pushing THE ALBUM release date back a week to May 12 and also releasing it on vinyl."
The brothers teamed up with FlyOver in Las Vegas to help preview the album. Billed as "the ultimate flight experience", the attraction uses state-of-the-art technology that gives passengers the feeling of flying over diverse landscapes ranging from the western United States to the Canadian Rocky Mountains, all to music.
Considering the imagery found in the accompanying music for "Wings," it seems like the partnership is a perfect fit with the brothers' vision for the album.
(Photo by Larry French/Getty Images for iHeartRadio)